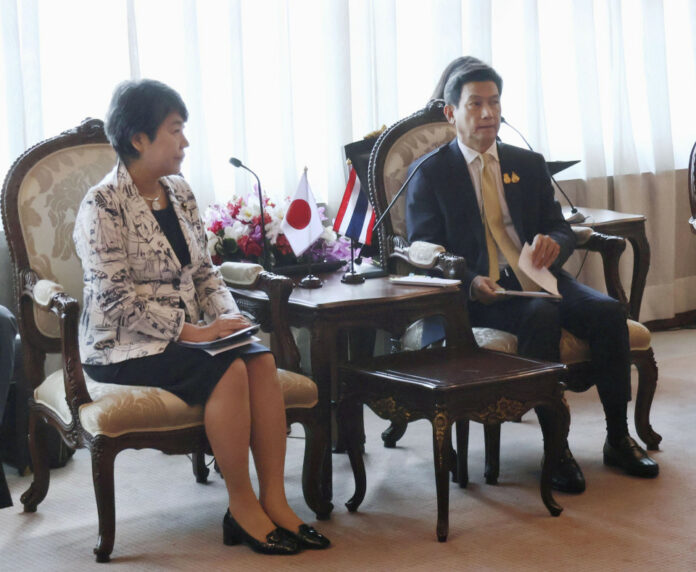 The foreign ministers of Japan and Thailand agreed Thursday that the two countries will enhance economic cooperation, the Japanese Foreign Ministry said.
Foreign Minister Yoko Kamikawa said during a meeting with her Thai counterpart Parnpree Bahiddha-Nukara in Bangkok that Japan will collaborate with Thailand to address challenges posed by the conflict between Israel and Palestinian militant group Hamas after Thai nationals were caught up in the violence, according to the ministry.
It was their first talks since Kamikawa assumed her post in September, while Parnpree, who doubles as deputy prime minister, took office following Thai Prime Minister Srettha Thavisin's inauguration the same month.
The two ministers confirmed the importance of cooperating to promote Japanese investment in Thailand based on a five-year joint action plan adopted last year, which ranges from digital trade and e-commerce to quality infrastructure development.
At the outset of the talks, which were open to the media, Kamikawa conveyed her condolences over the deaths of Thai nationals in Israel during a surprise attack by Hamas last weekend. She said Japan condemns the "terror assaults."
Many Thai citizens live in Israel for work purposes and dozens were killed, injured or kidnapped after the militant group stormed into Israel on Saturday, according to Thailand's Foreign Ministry.
Parnpree said that Srettha and he hope to make an official visit to Japan next year.
Kamikawa is on a trip to four Southeast Asian nations from Sunday and also visited Brunei, Vietnam and Laos. She is set to return to Japan on Friday.