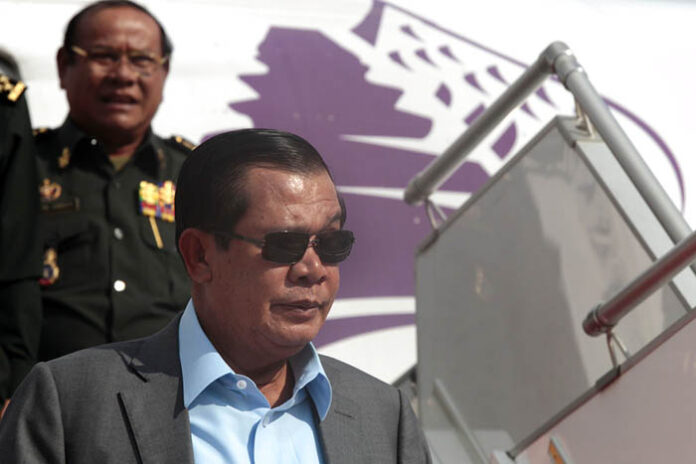 PHNOM PENH — Cambodian Prime Minister Hun Sen, who threatened Friday to use force over a border crisis with neighboring Laos, announced Saturday that the situation had been peacefully resolved after he made a lightning trip for face-to-face talks with his Laotian counterpart.
Hun Sen, an enthusiastic user of social media, announced on his Facebook page that he had successfully negotiated with Laotian Prime Minister Thongloun Sisoulith to have a small contingent of Laotian troops withdrawn from disputed frontier territory, with Cambodia also to remove its soldiers. His Facebook page showed video of the two leaders at a news conference.
Hun Sen flew to the Laotian capital, Vientiane, on Saturday morning, a trip announced just the day before, when he had set an Aug. 17 deadline for Laotian troops to withdraw or be confronted by Cambodia's military.
News media close to Hun Sen's government had shown troops in the Phnom Penh area mobilizing Friday night.
Cambodia and Laos have generally warm relations as both had fraternal communist governments after 1975. Hun Sen said Friday that the problem began in April when about 30 Laotian soldiers entered a no-man's-land on the border to stop Cambodian military engineers from building a road on what Cambodia maintains is its territory in Stung Treng province.
Hun Sen's critics have accused him of using past border crises with Thailand to boost his popularity.
Cambodia's last major border disputes were with Thailand from 2008 to 2011, and were widely seen as benefiting Hun Sen politically, as he was able to portray himself as a nationalist protector of the country's territory. His party won a strong victory in the 2008 general election, but lost seats in 2013 and is expected to face a strong challenge next year.
The state news agency of Laos, KPL, reported Thongloun's remarks on the agreement by both sides to withdraw military forces from the disputed area between the Laotian province of Attapeu and Cambodia's Stung Treng.
"Today, we had frank talks in a friendly manner and in order to restrain the situation in that area from being intensified and consequently developing into military confrontations, I and Prime Minister Samdech Hun Sen have agreed that the Lao side will withdraw the remaining military troops that have been left there since Prime Minister Samdech Hun Sen ordered the stoppage of building an access road in that area," the Laotian prime minister was quoted as saying.
He said he had ordered his country's soldiers to withdraw no later than Sunday morning, and that Hun Sen was likewise ordering his troops to stand down.
Thongloun said at their joint news conference that the two sides agreed that their foreign ministries and border committees would continue talks on demarcating the border where markers have not yet been installed.
Story: Sopheng Cheang