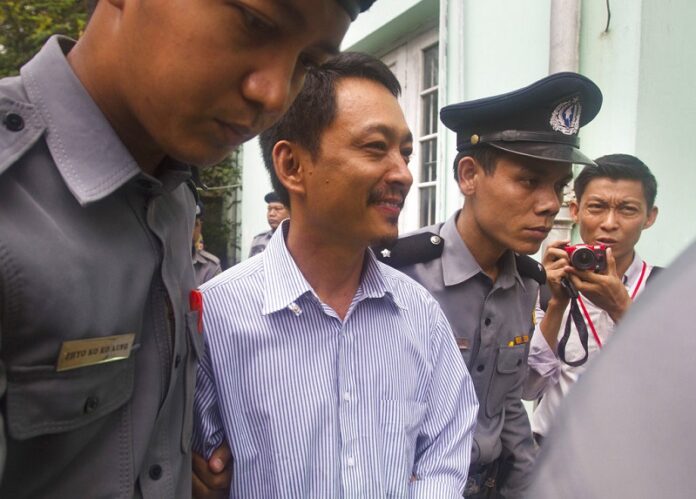 YANGON — Myanmar's military on Friday dropped criminal charges it had filed against six journalists in cases that drew international criticism for discouraging freedom of expression.
The decision to withdraw the cases involving contact with banned organizations and online defamation under a telecommunications law was announced on the Facebook page of the office of military's commander in chief. The journalists work for the newspapers The Daily Eleven, The Voice Daily, and The Irrawaddy and Democratic Voice of Burma, two primarily online news services.
The Myanmar Press Council confirmed it has received an official letter from the military and expressed its gratitude.
Although the elected government of Aung San Suu Kyi that replaced a military-backed regime last year lifted most censorship rules, authorities have remained hostile to the media.
The charges against Aye Naing and Pyae Bone Naing from the Democratic Voice of Burma and Lawi Weng from The Irrawaddy were filed under the Unlawful Association Act, which provides for up to three years' imprisonment for people found to have abetted groups designated as illegal. The three had observed the destruction of illegal drugs by an ethnic rebel group. The law had been applied before to sympathizers and members of rebel groups and also to some aid workers, but apparently not to journalists.
The military's announcement also said charges under a broadly defined article of the Telecommunications Law had been dropped against Wai Phyo, chief editor of the independent Daily Eleven newspaper, Kyaw Min Swe, chief editor of The Voice Daily and Voice columnist Ko Ko Maung.
The article sets a prison term of up to three years for material judged defamatory that is transmitted over any telecommunications network, including online. The law has been used under both military and civilian governments to prosecute critics, journalists and political activists who have spoken out against the authorities.
"This is a very good sign for our country and for the work of media," said Kyaw Min Swe. "This is a sign that the military also want to cooperate together with the media, especially because of the country's current situation," he said, in reference to violence in the western state of Rakhine involving the army and ethnic Rohingya insurgents.
Story: Esther Htusan