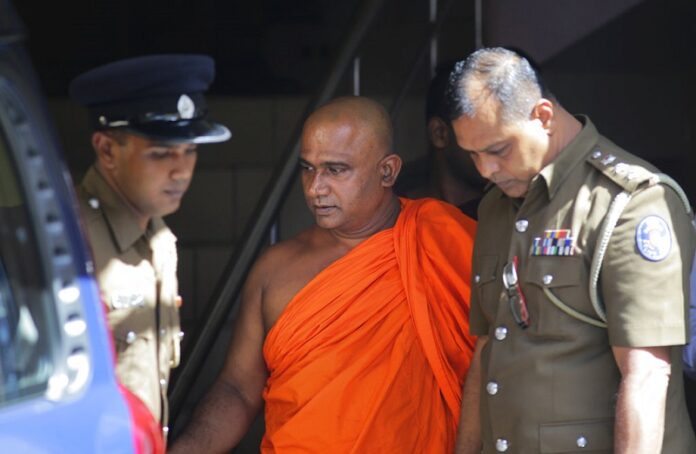 COLOMBO, Sri Lanka — Sri Lankan authorities have arrested seven people, including at least one Buddhist monk, suspected of storming a United Nations safe house for Rohingya Muslim refugees last week.
Monk Akmeenmana Dayaratana and another suspect were arrested Monday and ordered to remain behind bars until at least Oct. 9, said police spokesman Ruwan Gunasekara. He said the other five suspects were arrested and remanded over the weekend.
They are accused of being among dozens of protesters from Sri Lanka's majority Buddhist community, including monks, who stormed a safe house on the outskirts of Colombo where 31 Rohingya Muslims who fled Myanmar, including 17 children, had been living since arriving in the country in April. The monks claimed the refugees were terrorists and demanded they be returned to Myanmar, prompting police to move the refugees to another location.
Video posted on Facebook by a nationalist group, the Sinhala National Movement, shows protesters calling Rohingya "terrorists who killed Buddhists in Myanmar" and saying that they can't live in Sri Lanka.
The office of the United Nations High Commissioner for Refugees said in a news release that it was alarmed by the attack. Sri Lankan government leaders also condemned it, describing it as a "shameful act," and calling for strong action against the perpetrators.
Sri Lanka Buddhists make up 70 percent of the island's 20 million people, while Muslims account for 10 percent.
More than half-a-million Rohingya have fled from the region to Bangladesh in just over a month, making it the largest refugee crisis to hit Asia in decades. The latest violence began when a Rohingya insurgent group launched deadly attacks on security posts Aug. 25, prompting Myanmar's military to launch "clearance operations."
Rohingya have long faced persecution and discrimination in Buddhist-majority Myanmar, where the government denies them citizenship and considers them illegal immigrants. Extremist Buddhist monks in Sri Lanka have ties with their counterparts in Myanmar and monks in both countries have been accused of leading attacks on minority Muslims.
Story: Bharatha Mallawarachi