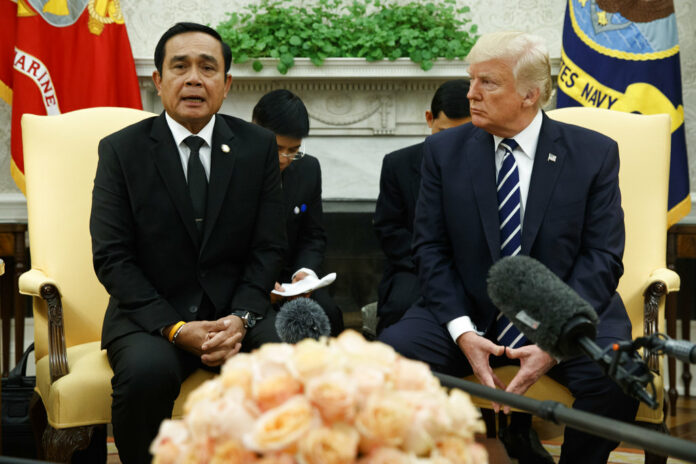 BANGKOK — Junta chairman Prayuth Chan-ocha's trip to meet US President Donald Trump did not include any discussion of arms sales, a junta deputy said Tuesday.
Prayuth's much-anticipated trip to the White House, which officials say is to boost regional cooperation and also burnishes the coup leader's bonafides, raised speculation that the military regime would also move to buy more arms from the Americans. The junta already approved two previous arm buys from the United States.
Deputy junta chairman Prawit Wongsuwan shot down that speculation. Although Thailand is permitted to buy American military hardware, the government has plans to do so at this time, Prawit said.
"There was no discussion of arms purchases," the general said.
Read: All the Prayuth & Donald & Melania Pics You've Been Waiting For (Photos)
He said Prayuth told him the discussion "went well" and touched on subjects like cooperation and regional security. The White House meeting ran about 40 minutes, Prawit added.
Trump did tell Prayuth he wanted to reduce the American trade deficit with Thailand, according to a Reuters report.
The visit was overshadowed by one of the worst mass shootings in American history. Reporters gathered outside the White House when Prayuth arrived shouted no questions about his visit but rather 58 people shot to death the night before in Las Vegas, Nevada.
The military regime in June agreed to buy a fleet of Black Hawk helicopters and Harpoon anti-ship missiles from the U.S. government in August. American military sales to Thailand since the 2014 coup have amounted to approximately USD$380 million, according to an embassy spokeswoman.
Prayuth is scheduled to be in the States from Monday through Wednesday.
His visit makes him the third Southeast Asian leader to meet Trump at the White House following Vietnamese premier Nguyen Xuan Phuc and Malaysian Prime Minister Najib Razak.
Najib capped his visit with a promise to buy at least 33 Boeing 737 and 787 jets for Malaysia Airlines.
Trump first reached out to Prayuth five months ago during a flurry of calls to regional leaders in late April to shore up support response to North Korea's escalated nuclear threats.
Prayuth was the second Thai prime minister to make a state visit to Washington D.C. in recent decades, following Thaksin Shinawatra's visit in 2005.
The United States announced reduction in military ties with Thailand following the 2014 coup which saw Prayuth ousting an elected government. American disapproval of the coup and human rights abuses put a chill on relations that have thawed since the election of Trump, who took office saying the United States would not "lecture" other nations.
Additional writing Todd Ruiz