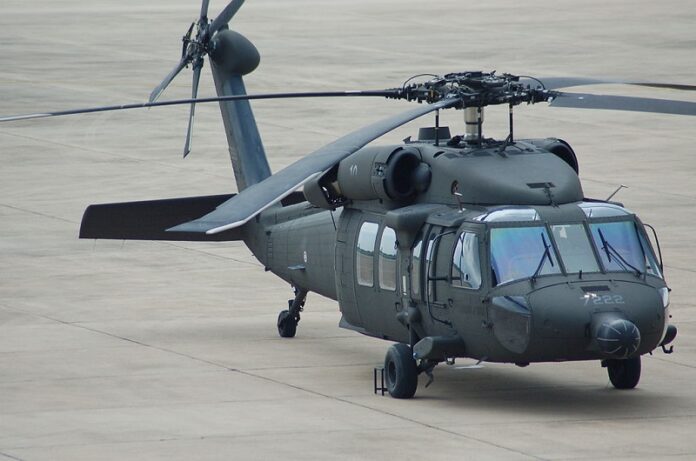 BANGKOK — The Thai military government secured the United States' approval for the purchase of four military helicopters, an army official said Thursday.
Army Chief Gen. Chalermchai Sitthisart confirmed today the government's agreement to buy four Sikorsky UH-60 Black Hawk helicopters from the US army, a move interpreted by International Relations expert Virot Ali as a normalization of American relations with the Thai junta. US embassy spokesperson Melissa Sweeney said the latest development is part of the two nations' "strong defense relationship."
"We will continue to build on our strong defense relationship with Thailand, a relationship based on our mutual security needs and shared commitment to regional security," Sweeney wrote in reply to an email Thursday afternoon. Sweeney said US military sales to Thailand since the 2014 coup amounted to approximately USD$380 million, including Black Hawks and Harpoon Block II Missiles.
Sweeney did not comment on whether the US would treat the unelected military regime the same way it treated elected governments.
Chalermchai, speaking to the media at the army headquarters in Bangkok, said the plan to increase its fleet of helicopters from 12 to 16 had been stalled since the May 2014 coup – but no longer.
Chalermchai said the helicopter deal could be formalized when Prime Minister Gen. Prayuth Chan-ocha embarks on a state visit to the White House, which could take place as early as next month.
"At present, the US has given approval for four [helicopters]," he said, adding that they would be acquired using funds from the 2017-2019 annual budgets. The last time the military took receipt of Black Hawks was before the coup. In April 2013, three Black Hawks were delivered by boat to Rayong province, east of Bangkok.
The army chief said the helicopter fleet would be used to carry infantry troops for quick deployment.
Virot Ali, a lecturer of International Relations at Thammasat University said the move signaled a normalization of relations between the two governments under the Trump administration.
"Trump is a president that has a policy of selling arms to all sides, be it elected or not, violating human rights or not, without consideration for political correctness," Virot said, adding that he wasn't surprised by the latest news.
Virot said the Obama administration had already been trying to upgrade the relationship with the Thai military government.
"Now they don't care about [the coup] anymore," said Virot, adding that he still maintains a 50 percent hope that the United States would not abandon all support for democratic forces in Thailand.