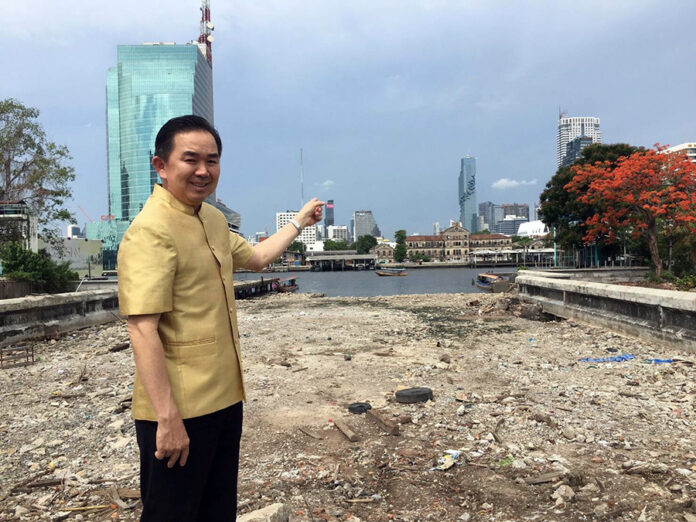 BANGKOK — A transparency activist announced Thursday he would file a complaint over the government's exemption of a multi-billion baht landmark from mandatory competitive bidding protocols.
For the privilege granted to the Bangkok Observation Tower Foundation – which has close ties to a wealthy land developer – activist Srisuwan Janya said he would accuse the government of malfeasance and violating laws on public-private enterprise.
"No one would mind if they would build a museum or whatever," Srisuwan said by phone. "But this exercise of power is not right."
He said he would name the entire cabinet in his complaint, which would be submitted Monday to the National Anti-Corruption Commission.
On Tuesday, the military government approved the 459-meter-high Bangkok Observation Tower to be built by a private entity on a plot of public land, which would be leased to the foundation for the next 30 years. Construction is estimated to cost 4.6 billion baht.
The foundation is chaired by Panas Simasathien, the same businessman behind Icon Siam, a luxury high-rise complex being built right next door.
Instead of going through the mandatory open bidding, Panas' group was directly selected by the government as the landmark's developer. Such exemption potentially breaches the 2017 Act of Private Investments in State, Srisuwan said.
"They cannot grant gifts to any individual private firm," said the activist, who has filed more than 3,000 graft complaints. "Why didn't they open the opportunity to other private firms or foundations who might have the objective to use or develop that land? Why specifically give it to this entity?"
Highrise, Low Price
The plot of land where the tower will be built, located in the Khlong San district on the western side of the Chao Phraya River, was initially owned by Department of Treasury. Tuesday's cabinet resolution agreed to lease it to the developer at an annual fee of 6.6 million baht.
Real estate analyst Sopon Pornchokchai said the rent is suspiciously low for land in an area known for residential and business clusters.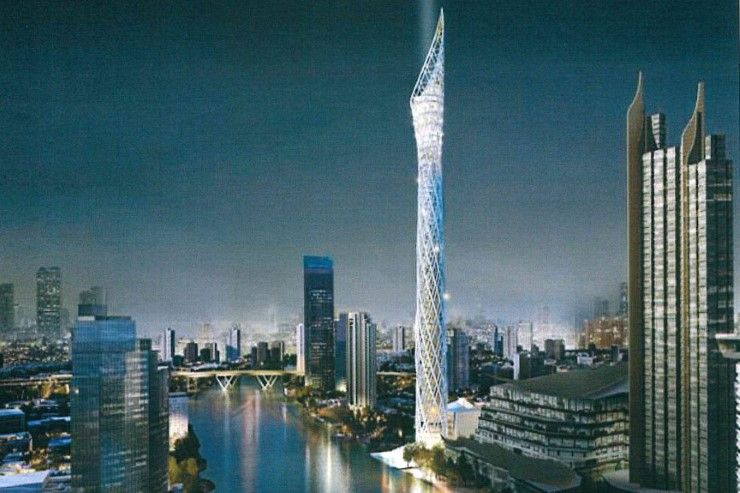 "6.6 million is a bit cheap by today's standard," he said by phone.
Sophon, who runs a consultancy firm, said he planned to inspect the land and measure it himself to find out what its actual market value would be.
He also slammed the government's claim the tower should be exempted from the usual procedure because part of it would feature a memorial and museum dedicated to the late King Bhumibol, who died in October.
"It's pulling the sky down to earth," Sopon said, using a Thai idiom that means claiming the monarchy in inappropriate matters.
It was the second time the military government has subverted the procurement process this month. On June 15, Gen. Prayuth Chan-ocha used his absolute power to skirt 10 laws and regulations – including those related to bidding – to expedite the construction of a stalled Sino-Thai railway project.
Even a column on Naewna newspaper, which has a pro-junta editorial stance, criticized the military government for fast-tracking the tower's construction.
"Don't make false claims to the king's teachings; just to build and facilitate the cover-up; the observation tower that they wish to build; 4.6 million baht to violate our rights and blind us all," columnist Charoen Kwan wrote in a poem.
Related stories:
Govt Ditches Open Bidding to Gift Megaproject to Developer
Oil Extraction on Protected Land Resumes Under Junta's Shield