BANGKOK — It was a few minutes after 10pm last night when Srisuwan Janya was released from a military base in Bangkok. Some soldiers offered to drop him off, but the longtime transparency advocate said he'd rather just take a cab home.
Unlike the 3,000 other times he has filed complaints about every possible governmental wrongdoing, Srisuwan's latest complaint won him 12 hours in military custody.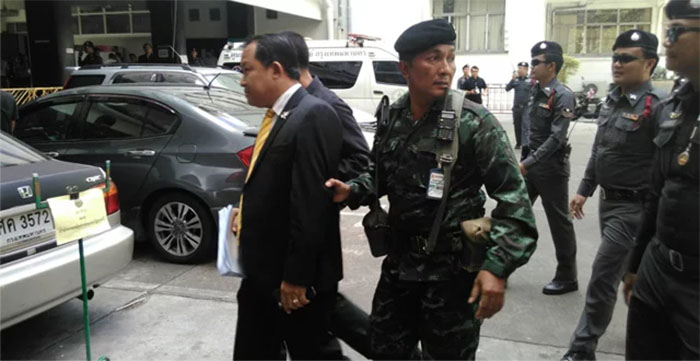 He was taken by soldiers from the government's petition center after he submitted a letter urging the prime minister to restore the 1932 Revolution plaque to its original place at Royal Plaza, as well as bring those who removed it to justice.
"I told them, 'You shouldn't take me, it makes me even more famous!" he said Tuesday night, an hour after being released. "And it makes the story spread more."
He said he was released without charge and not forced to sign anything except a declaration that he was uninjured while under custody. Srisuwan said he was treated well – and fed well, with two meals.
For more than a decade, Srisuwan has been a familiar face. They know him at the Administrative Court. He's a frequent guest of the State Ombudsman. He knows his way around the National Anti-Corruption Committee and Office of the Auditor General. He's filed complaints on a wide range of topics and for this, he's well-known in newsrooms where his complaints fuel stories on the scandals of the day.
Notably, his contempt for malfeasance doesn't seem to take any political sides.
And until Tuesday, he'd never backed off from pressing issues, despite being taken in twice before for "attitude adjustment" sessions.
But on this very rare occasion, Srisuwan walked out of the military base Tuesday after agreeing not to press further to find out who was behind the removal of the symbol of the country's transformation to democracy.
"They asked for cooperation. They said the issue I was trying to kindle was becoming political," he said. "If I push it forward, some malicious group might exploit it to spark conflict, and it wouldn't lead to reconciliation."
Srisuwan made it clear he just wants to protect history, not initiate any political movement.
There was something different about Tuesday's encounter, as previous brushes with authoritarian pushback have seen him anything but compliant or compromising.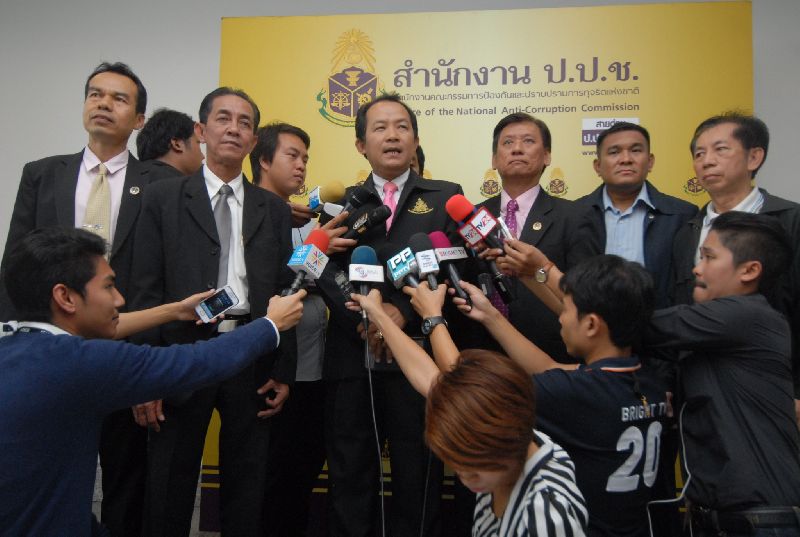 Srisuwan was first brought to the 1st Army Region's Bangkok base in October 2015, a few days after he filed nepotism complaints against Prime Minister Prayuth Chan-ocha and Deputy Prime Minister Wissanu Krea-ngam. The two had appointed relatives to be members of the junta's legislative advisory committee.
"They had a thick file of my information. I realized then that they had been keeping track of me," he told Khaosod English last month. "They asked me to withdraw the complaint. I insisted I wouldn't. They cannot do anything so they just released me after an hour talk."
An Apt Pupil
Srisuwan was the only child in his family to attend school. The fourth child of a farmer in the northern province of Phitsanulok said his father paid for his education after deciding he was the best among his siblings at studying.
He didn't let them down. He got a scholarship to Maejo University in Chiang Mai province. It was there he started down the activist path.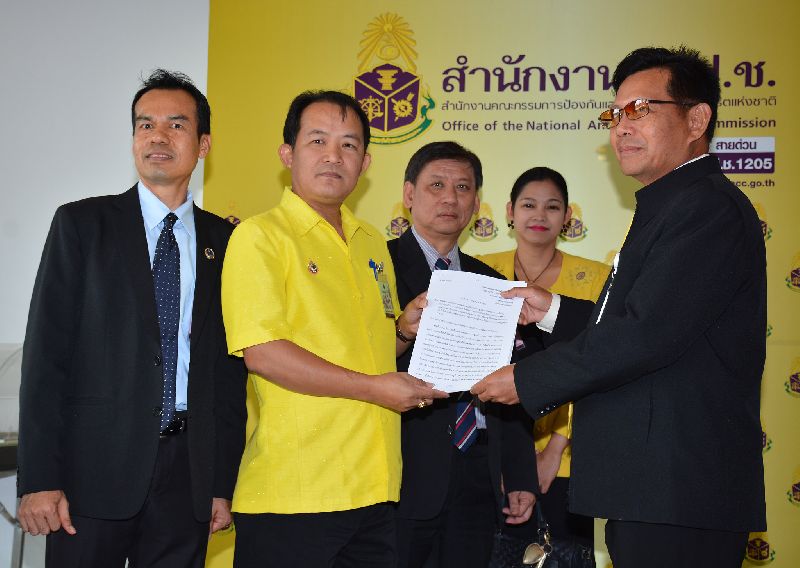 As president of the student union, he led students and local residents in shutting down a road for three nights to pressure the governor to make the road in front of the university more safe. It worked.
After graduation, he went to work for the Air Pollution and Environment Protection Foundation, where he found a passion for environmental issues.
But it was hard to eclipse his love for studying. Srisuwan has three bachelor's degrees and two master's degrees, including one in law. In 1993, he started advising the Lawyers Council on its environmental cases, mainly assisting residents of at-risk neighborhoods.
After applying himself for some time helping affected people without charge in the name of justice, he began to feel used.
"Sometimes those we sued would negotiate with the locals, who would then come back to ask us to withdraw the case," Srisuwan said. "It felt like they borrowed our hands for their bargaining. I didn't think it was fair for my crew."
That inspired him to found the Stop Global Warming Association in 2007. Since then, he has used the organization to co-file legal complaints, so that even when parties withdraw their cases in exchange for compensation, he can still proceed against the responsible parties.
Srisuwan later stepped away from the Lawyers Council to practice law on his own. He applies the same model of aiding the afflicted without charge. A couple years later, he and some friends founded another organization specifically for political complaints, the Association of Organizations for the Protection of Thailand's Constitution.
Since then, both the environmental and legal associations have been regular fixtures of the front page, as Srisuwan has proven a tireless petitioner on all topics, from the country's policy agenda to local conflicts.
"I think those affected shouldn't stay quiet and just think it is karma or that we are powerless," Srisuwan said. "I don't agree with that."
He's perhaps best known for petitioning the government of Abhisit Vejjajiva of the Democrat Party in 2010 to hold a public hearing on a planned industrial area in Rayong province.
But asked what he's proudest of, Srisuwan said it was a complaint that led to hearings over a 350 billion baht water management project proposed by Abhisit's successor and political rival, Yingluck Shinawatra of the Pheu Thai Party.
While many environmental activists profess to an apolitical interest only in tangible final outcomes, Srisuwan believes it's impossible to separate the two:
"I think it's related. Because the environmental effects all result from the politicians' policies."
Belief in Law
His frenetic activity and prolific complaints have drawn the curiosity of many, including junta chief Prayuth Chan-ocha, who once publicly asked what Srisuwan does for a living.
His answer was simple. He works as a lawyer supported by donations. Some clients pay him; some don't, and some donate tens of thousands of baht.
Some may laugh at his organization's unwieldy name, and others doubt he is the only member. He's been accused of doing it all for the attention and fame. He invited peak ridicule last year when he filed a complaint after learning a foreign architect designed the MahaNakhon building, a profession limited only to Thais under the law.
But in numerous instances, no investigations into malfeasance or corruption – no matter how glaring – would have happened without complaints from this super gadfly. His recent successes include no-show members of the legislature who failed to meet its attendance requirement, and the Bangkok police chief's monthly payments from the nation's largest brewer.
Without Srisuwan, nothing would have happened.
The man, a failed 2014 senate candidate, said the final outcome after the wheels are set in motion does not concern him.
"I think it's already a success when people know about an issue," he said. "It doesn't matter what the investigative outcome is."
But there is still a price to pay. Apart from last night's 12-hour detention, he gets paid visits every two weeks by soldiers at his home north of the capital in Pathum Thani's Lam Luk Ka district. It's there he works from a home office. Sometimes he stays up until the sun rises to finish a legal complaint, only to rush out the door to file it that morning.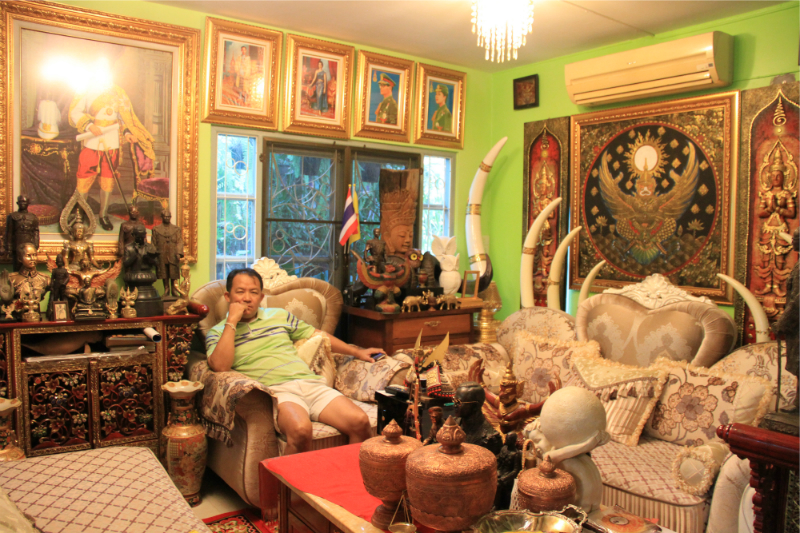 His wife and 2-year-old child live elsewhere. To protect them, he won't say where.
Srisuwan said he's not even friends with his wife on Facebook because she would worry if she saw his activities online.
"She sometimes sees it herself in the news," he said. "My wife doesn't really like what I'm doing. She doesn't object. But she worries. So I give her no information at all."
Since the military government seized power in 2014, Srisuwan said his complaint load has multiplied. But even in an era where the rule of law seems increasingly set aside and ignored, Srisuwan said he has not lost hope for Thailand's legal system.
"I think there is no other way for us, as Thai citizens, to exercise the right to complain as guaranteed by the constitution," he said. "What can we believe in if it not the law? Law enforcement might be loose sometimes, but that's the way things are because our society is a patronage society."
In fact, he still believes steps forward come with those back.
"When I was a kid, I felt the officials or police were so powerful, everyone must be scared of them," he said.  "Now that I tackled the junta like this, if it was in the past, I might be put in a red bucket and rolled to death. Today, I think that is impossible."
Related stories:
Authorities Respond to Questions About Missing Plaque With Arrests, Silence
Gadfly Spurs Inquiry into No-Show Lawmakers' Excuses
NACC Suspends Inquiry Into Prayuth's Nephew
Many Complaints, Few Results from Thai Anti-Graft Agency
Military Closes Ranks on Nepotism Charges
Activists File Nepotism Complaint Over Prayuth's Nephew
Anti-Graft Agency Petitioned To Investigate Junta's LINE Stickers
Ombudsman Petitioned To Remove Prayuth From NCPO