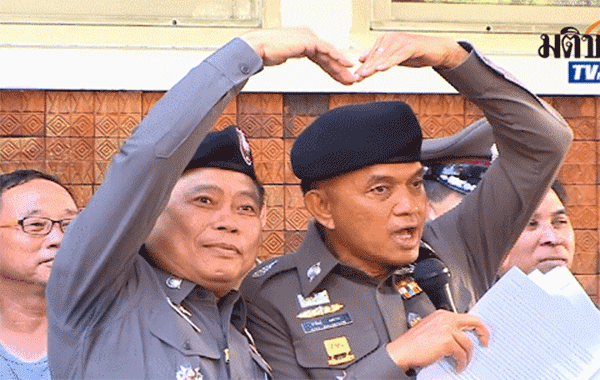 BANGKOK — The state ombudsman on Tuesday ordered Bangkok's police chief to report whether he still receives 50,000 baht every month from the country's largest beverage conglomerate.
Bangkok police commander Sanit Mahathavorn was asked to respond within seven days on whether he remains an active advisor to ThaiBev, which owns Chang beer and SangSom, for which he has been paid 50,000 baht per month since 2015.
The ombudsman's secretary-general, Raksagecha Chaechai, said he also asked ThaiBev to clarify the issue within a week.
Sanit, who was officially appointed chief of the Bangkok Metropolitan Police force in October, has consistently declined to answer questions on the topic. A call to his office Wednesday was not returned.
It came up after his earnings were exposed by an investigative news outlet on Dec. 8. Isranews Agency published a document Sanit submitted to the National Anti-Corruption Committee, or NACC, which disclosed the monthly salary and his role as adviser to ThaiBev.
Sanit was obligated to disclose his financial information upon his appointment in October to a position in the junta's interim legislature.
The version of his financial disclosure posted online by the NACC did not mention the ThaiBev salary. It did state he holds 93 million baht worth of property.
Sanit's total remuneration is 1,425,600 baht per month, according to the document.
The ombudsman also asked the NACC to report in 15 days whether Sanit listed the salary in his financial disclosure document.
The news has drawn strong criticism by those who say it's inappropriate for the police chief to be on the payroll of an alcohol producer.
A police spokesman last month said Sanit was not guilty of professional misconduct, as the law only prohibits officers from being executives in private enterprise, while taking advisory roles is allowed.
Asked about the issue on Dec. 20, Prime Minister Prayuth Chan-ocha declined to comment, saying it was a personal matter.
Related stories:
Learn 3 K-Pop Gestures From Bangkok's Top Cop And Make Love, Not War