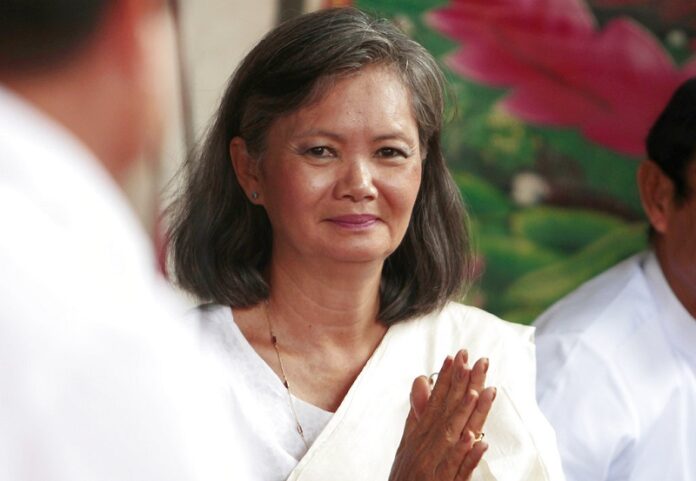 PHNOM PENH — A prominent Cambodian opposition lawmaker has fled the country after being warned by government officials that she faced arrest for links with the party president's alleged plot to overthrow the government, a senior party official said.
Mu Sochua, who also served as deputy president of the Cambodia National Rescue Party, left Cambodia on Tuesday, a day after Prime Minister Hun Sen warned of strong action against any others who may have been involved in the alleged plot. She had received an arrest warning from a senior Ministry of Interior official, Kem Monovithya, a deputy party chief for public affairs, said on Twitter late Tuesday.
Opposition party president Kem Sokha was charged with treason for allegedly conspiring with the United States to topple the government, and could face up to 30 years in prison if convicted. He was arrested on Sept. 3 on the basis of videos from several years ago showing him at a seminar where he spoke about receiving advice from U.S. pro-democracy groups.
His arrest in the middle of the night came amid a crackdown on the media.
Almost half of the 55 opposition lawmakers have fled Cambodia since Kem Sokha's arrest, fearing their own security and to avoid being arrested themselves. Mu Sochua's whereabouts were not immediately known.
Kem Sokha had been expected to lead his Cambodia National Rescue Party in next year's election in a strong challenge against the Cambodian People's Party of Hun Sen, who has held power for three decades. The opposition party has denied the treason allegation, saying the charge is strictly politically motivated.
In a speech in Siem Reap province on Monday, Hun Sen said treasonous acts within the opposition involved other opposition party officials in addition to Kem Sokha. He said he would search for others who may have been involved.
Cambodia's appeals court last week rejected a request for the release on bail of Kem Sokha. On Tuesday, Kem Sokha released a statement denying the accusations, saying he has always sought "change through nonviolent elections" in his role as opposition party president.
Story: Sopheng Cheang