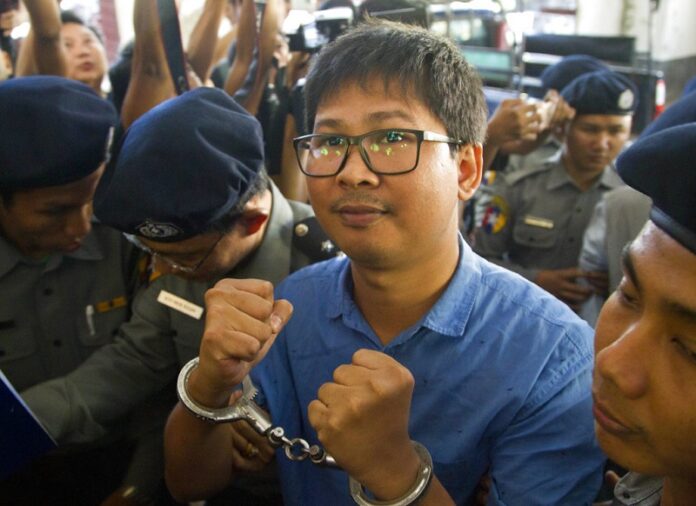 BANGKOK — Prosecutors in Myanmar formally charged two journalists from the Reuters news agency on Wednesday with violating the Official Secrets Act, signaling the case will go forward despite international condemnation.
Wa Lone and Kyaw Soe Oo were arrested Dec. 12 after police accused them of violating the colonial-era law by acquiring "important secret papers" from two policemen. The police officers had worked in Rakhine state, where security forces are blamed for rights abuses against Rohingya Muslims that sparked the exodus of some 650,000 people to Bangladesh.
Than Zaw Aung, the lawyer for the journalists, said the prosecutor formally indicted the pair at Wednesday's hearing. They face up to 14 years in prison if convicted.
Than Zaw Aung said he appealed for the two to be immediately released on bail, but the judge said he would review that request and rule at the next hearing on Jan. 23.
"We are still far from the verdict," he said.
Rights and media groups have criticized Myanmar's new civilian government led by Nobel Peace laureate Aung San Suu Kyi for continuing to use colonial-era laws to threaten and imprison journalists. Such laws were widely used by the military junta that previously ruled the country to muzzle critics and the media.
Dozens of journalists wearing black waited outside the court Wednesday to protest the arrest of their colleagues, who were led into the court with iron chains on their wrists.
Their detention has caused an international outcry. After they were detained, U.N. Secretary-General Antonio Guterres said the arrests showed how press freedom was deteriorating in Myanmar, while U.S. Secretary of State Rex Tillerson called for their immediate release.
"A free press is critical to a free society_the detention of journalists anywhere is unacceptable," former President Bill Clinton tweeted Monday. "The Reuters journalists being held in Myanmar should be released immediately."
Amnesty International again called for their immediate release and said the arrests were part of a larger problem in Myanmar.
"These arrests have not happened in a vacuum, but come as authorities are increasingly restricting independent media," James Gomez, the group's director for Southeast Asia and the Pacific, said in a statement. "Journalists and media outlets, in particular those who report on 'sensitive topics,' are living with the constant fear of harassment, intimidation or arrest. This clampdown on freedom of speech must end."