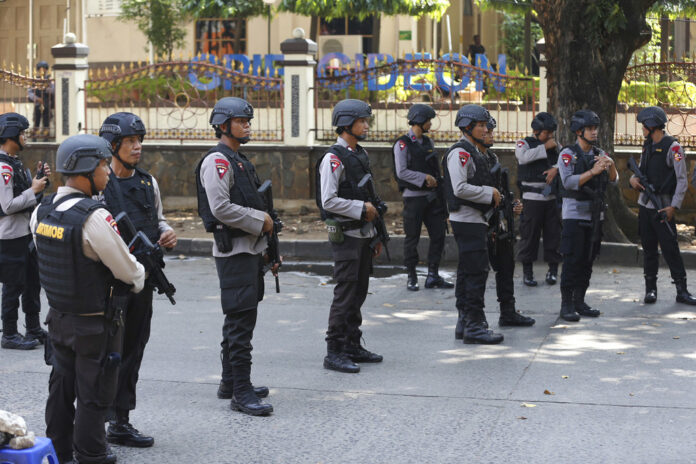 JAKARTA — Five officers and one prisoner were killed in a riot at a police detention center in a city near Indonesia's capital that authorities allege was earlier being targeted by Islamic militants, an official said Wednesday.
The riot happened in Depok, on Jakarta's southern outskirts, where four days earlier police arrested three Islamic militants they say planned to attack the headquarters and other police stations in the same town.
The Islamic State group's Amaq News Agency published a report saying the fighting that broke out at the prison late Tuesday was between its fighters and the counterterrorism squad.
A counterterrorism investigator said in a text message that six officers had been taken hostage by the inmates, and five of them were killed. One other officer was still being held captive.
Four police officers were injured and were being treated at a hospital, said the investigator, who did not want to be named because he was not authorized to speak to reporters.
Earlier in the day, national police spokesman Muhammad Iqbal told reporters outside the headquarters of the elite Mobile Brigade police in Depok that some people from both sides were injured, but didn't give a number and refused to provide more details.
Unconfirmed reports said the riot began when some terrorist detainees tried to grab weapons from guards on the counterterrorism squad.
"It was just triggered by a trivial thing, about food from families," Iqbal said.
The inmates reportedly pushed an iron trellis until broken before taking long-barreled weapons and breaking through the ammunition room inside the detention building. That led to a shootout between the inmates and counterterrorism officers.
The rioting happened four days after the arrests of three Islamic militants who planned to attack the headquarters and other police stations in the same town.
Indonesia, the world's most populous Muslim nation, has carried out a sustained crackdown on Islamic militants since the 2002 Bali bombings by Jemaah Islamiyah network that killed 202 people, mostly foreigners.
The network was neutralized following the arrests of hundreds of its militants and leaders. But new threats have emerged recently from Islamic State group-inspired radicals who have targeted security forces and local "infidels" instead of Westerners.
Story: Ali Kotarumalos, Niniek Karmini