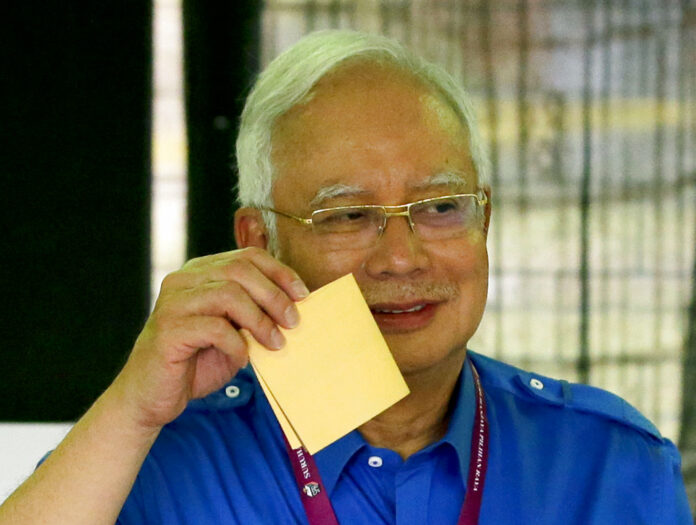 KUALA LUMPUR — Voting is underway Wednesday in a fiercely contested Malaysian election that pits an opposition led by former authoritarian leader Mahathir Mohamad against the ruling coalition of Prime Minister Najib Razak, whose image has been battered by corruption allegations and an unpopular goods and services tax.
Polling booths opened at 8 a.m. and long queues had already formed at some voting locations in Kuala Lumpur and other cities. Watched by election officials, voters at a polling station set up at a school in central Kuala Lumpur dipped a finger in purple ink before casting their votes.
Analysts say the ruling National Front, in power since independence from Britain in 1957, might lose the popular vote for a second consecutive election. But it could still win a majority of seats in parliament due to an electoral system that gives more power to rural Malays, its traditional supporters. Voting closes at 5 p.m. and results are expected in the late evening.
Najib, in an election eve appeal to voters, promised income tax exemptions for young people and public holidays if his coalition wins. Mahathir, who was Malaysia's authoritarian leader for 22 years until 2003, repeated the themes of a campaign that asserted a vote for the opposition would save Malaysia from a corrupt elite.
The 92-year-old Mahathir emerged from political retirement and joined the opposition in attempt to oust Najib, his former protege, after a multibillion-dollar corruption scandal at state investment fund 1MDB set up by Najib.
The U.S. Justice Department says USD$4.5 billion was looted from 1MBD by associates of Najib between 2009 and 2014, including $700 million that landed in Najib's bank account. He denies any wrongdoing. An unpopular goods and services tax, introduced by Najib in 2015 to boost government revenue as Malaysia's oil wealth dwindles, has also dented support for the ruling coalition. It hit poor rural Malays particularly hard.
"Enough is enough. We want a clean and just government. We want a party for all races," Agnes Yap, a bank employee, told The Associated Press after she voted in a Kuala Lumpur suburb.
Reflecting Malaysia's racial divides, Yap said the Chinese party in the ruling coalition had been subservient to Najib's Malay party and failed to defend the rights of the country's ethnic Chinese minority.
The National Front lost its two thirds majority in parliament in 2008 polls and lost the popular vote in 2013. However that year it still won 60 percent of seats in parliament. Tindak, a group advocating for reform of the electoral system, says one third of voters decide half of seats.
Najib, the son of Malaysia's second prime minister, cast his vote in the coastal city of Pekan.
The election campaign had been "quite vicious in the content of the personal attacks which doesn't reflect a mature democracy," he said after voting.
"But the most important thing is for the people to decide on the destiny of this nation and it must be based on facts, it must be based on policy," he said.
About 15 million Malaysians are eligible to vote and the Election Commission has predicted a turnout of 85 percent.
"This time there is a real hope for change for a better future for our country. Malaysians want a better future for all. The country's wealth belongs to all Malaysians, not just to an elite few," said a civil servant who identified herself as Hani.
But the opposition and election monitoring groups said the Election Commission's decision to hold the vote midweek was likely to lower turnout – many voters need to return to their hometowns to vote – and favor the ruling party.
Story: Eileen Ng, Stephen Wright