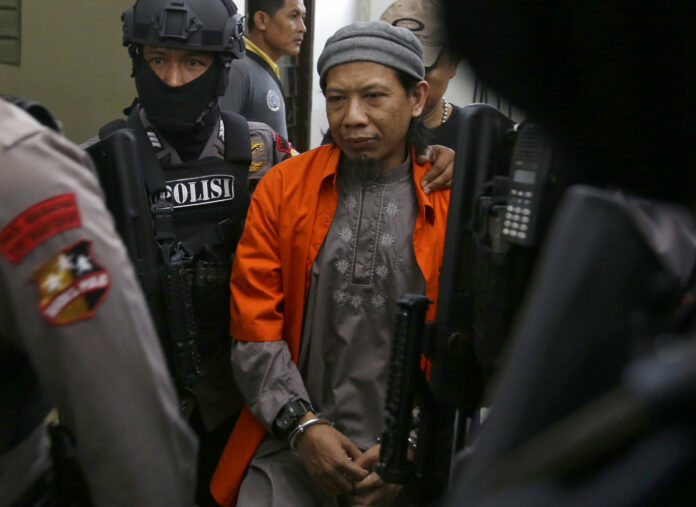 JAKARTA — Indonesian prosecutors on Friday demanded death for radical Islamic cleric Aman Abdurrahman who is accused of ordering attacks including a January 2016 suicide bombing and gun attack in the capital Jakarta that killed four civilians and four attackers.
Abdurrahman, who police and prosecutors say is a key ideologue for Islamic State militants in the world's largest Muslim nation, sat impassively as the prosecution announced the sentencing demand before a panel of five judges.
Prosecution lawyer Anita Dewayani said Abdurrahman's acts had resulted in deaths and injuries and there was no reason for lenience.
Abdurrahman's next hearing was set for May 25 where he and his lawyer, appointed by the court after the cleric refused to be represented, will respond to the prosecution.
"I'll do my own defense," Abdurrahman told the court.
Prosecutors say Abdurrahman's instructions from prison, where he was serving a terrorism-related sentence, resulted in several attacks in Indonesia, including the January 2016 attack on a Starbucks in Jakarta, an attack on a bus terminal in the capital that killed three police officers and an attack on a church in Kalimantan that killed a 2-year-old girl.
Reflecting a dire lack of supervision of militants in Indonesia's overcrowded prisons, Abdurrahman was able to spread radicalism and communicate with his supporters on the outside through visitors and video calls, they say.
Authorities deployed dozens of elite counterterrorism and paramilitary police officers to guard Friday's hearing at the South Jakarta District Court following a wave of attacks by IS-inspired militants.
Suicide bombings Sunday and Monday in Surabaya, Indonesia's second-largest city, killed 26 people, including 13 attackers. Two families carried out the attacks, using children as young as 7.
Police said they were part of the same militant network that Abdurrahman played a key role in.
Story: Niniek Karmini