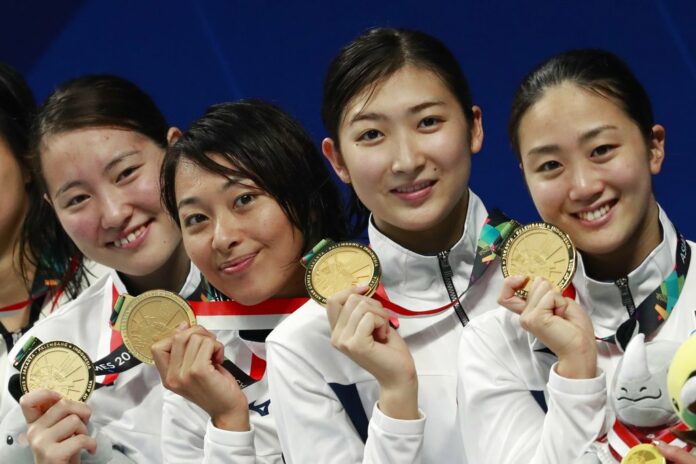 JAKARTA — Rikako Ikee is turning Jakarta's Asian Games pool into her own golden pond. Every time she dives into the water, she comes out with another medal.
The 18-year-old Ikee did it again Thursday, swimming the butterfly leg for the Japanese team that won the women's 4×100-meter medley relay.
The victory gave her a fifth gold and her seventh medal overall in Jakarta, leaving her in a tie for second in two of the most significant medal categories in the 67-year history of the region's biggest multi-sports event.
Only North Korean shooter So Gin Man has tallied more at one edition, winning a total of eight medals, including seven gold, at the 1982 Asian Games.
Ikee still has one more race to come on the sixth and final day of swimming.
"I feel a bit broken and my body aches," Ikee said. "I'm proud to be an Asian champion, but I want to achieve more."
Ikee may get her chance. She also won four medals at last week's Pan Pacs against m opposition from the United States, Canada and Australia and is surfacing as Japan's great hope for the 2020 Tokyo Olympics.
Hong Kong and Singapore also won medals in the relay but only after China and South Korea, which initially finished second and third, were disqualified for leaving the blocks too early.
The relay victory was significant because it gave Japan the slimmest of leads over China in the sport's medal standings, which are important for both nations with the next Olympics taking place in Asia.
With six events remaining on the last night of swimming, Japan has 17 golds to China's 16. Only the tiny city-state of Singapore has broken the domination of those two countries in the pool this week, courtesy of Joseph Schooling's two titles.
The 100 butterfly Olympic champion wasn't at his best in the 50 fly but he found a way to get his hands on the wall first in 23.61 seconds, edging China's Wang Peng by 0.04.
"I think it's more like a controlled rage, all I was thinking about was trying to get my hips up and down as quick as I could, try not to spin, try not to slip too much. The rest, you can only hope for the best," he said.
Chinese backstroker Xu Jiayu was more animated than usual after he captured his fourth gold of the Games, winning the 200 in 1 minute, 53.99 seconds, then straddling the lane rope and raising his arms in the air in triumph before slamming his fists into the water.
Already a world champion for the 100 backstroke, he is shaping as one Asia's best Olympic hopes for Tokyo 2020. He has three backstroke titles in the meet, scooped up a bonus gold in the mixed relay and has a shot at one more in the men's medley relay.
China's Wang Jianjiahe beat the Asian Games record to win the women's 800 freestyle in 8:18.55, but Japan won the two other events decided Thursday.
Shinri Shioura beat his Japanese teammate Katsumi Nakamura by a fingernail to win the men's 100m freestyle gold in 48.71, with Nakumura clocked at 48.72, while Satomi Suzuki won the women's 50 breaststroke in 30.03 to collect her third gold in the Indonesian capital.