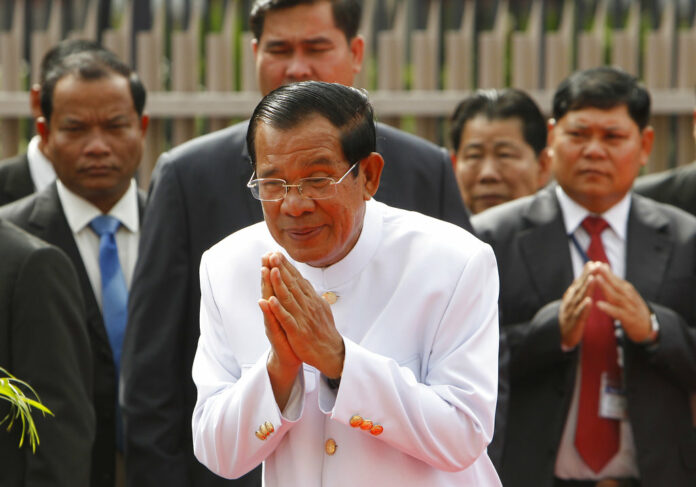 PHNOM PENH — Cambodia's king on Wednesday presided over the opening of the new session of the National Assembly, whose 125 seats are filled by members of a single party following an election widely decried as unfair.
The lawmakers from the Cambodian People's Party are expected to confirm Hun Sen, who has held power for three decades, for another five-year term as prime minister on Thursday.
His party won a landslide victory in the July 29 general election.
The only credible opposition force, the Cambodia National Rescue Party, was disbanded last year by the courts in a move seen as politically motivated. The 19 other parties that contested the election were seen as either having trivial support or being promoted by the ruling party to foster the illusion of democratic choice.
Many countries branded the election a sham and several poll-watching groups – as well as national contingents from the United States, the European Union and Japan – declined to take part because they also felt the polls were not legitimate.
In a speech at the assembly's opening, King Norodom Sihamoni conveyed his warmest congratulations to the new lawmakers and urged them to fulfill their duties under the law and to work for the benefit of the entire country.
In a sign of continuing international rejection of the election process, no representatives from the U.S., British and Australian embassies attended the event. Many other diplomats also appeared to be absent.
The United States in December imposed visa restrictions on top Cambodian officials because of the anti-democratic actions taken in the lead-up to the vote , and said it was disappointed by the "flawed elections."
Last month, State Department spokeswoman Heather Nauert said the U.S. would expand those visa restrictions and in certain cases apply them to immediate family members of the individuals the U.S. had deemed responsible for undermining Cambodian democracy.
Hun Sen has aligned his country firmly with China in recent years, both politically and economically, allowing him to largely ignore criticism from the West.
Story: Sopheng Cheang