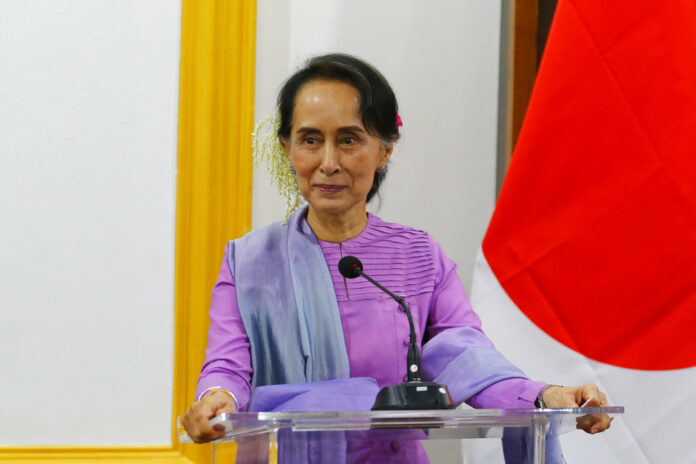 HANOI — A senior Myanmar official has confirmed that the country's leader, State Counsellor Aung San Suu Kyi, will not attend the U.N. General Assembly session this month in New York.
Minister for International Cooperation Kyaw Tin, who is accompanying Suu Kyi at a meeting of the World Economic Forum in Vietnam, said "She has no plan to go there."
He was responding to a report in the Myanmar newspaper 7 Days citing a Myanmar foreign ministry official as saying that Suu Kyi would not attend the U.N. meetings. No reason was given.
Suu Kyi, who took office in 2016, also did not attend last year's General Assembly meeting.
Myanmar is facing international pressure over human rights abuses allegedly committed by its military against the Rohingya Muslim minority.
About 700,000 Rohingya fled to Bangladesh from Myanmar's western state of Rakhine last year after the army launched a brutal counterinsurgency campaign in response to August 2017 attacks by Rohingya militants on security forces.
The army is accused of committing mass rape, murder and setting fire to thousands of homes. A report issued two weeks ago by a specially appointed U.N. human rights team recommended prosecuting senior Myanmar commanders for genocide and other crimes.
The latest speakers' list for the General Assembly meeting shows Myanmar represented by a minister and speaking on Sept. 28. The annual meeting of world leaders, called the General Debate, starts Sept. 25 and ends Monday Oct. 1. Normally, a country's foreign minister would speak in the absence of its top leader, but because Suu Kyi also holds the foreign ministry portfolio, Myanmar's speaker is likely to one of the two Cabinet ministers who 7 Days said would attend the meeting, Kyaw Tin and Kyaw Tint Swe.
Last year, Suu Kyi's office said her reason for not attending the 2017 General Assembly session was because she had to handle domestic security issues after the attacks that triggered the army crackdown.
Although the violence in Rakhine state has eased, Myanmar has to deal with its aftermath, especially the repatriation of the Muslim Rohingya who fled and the underlying causes of tension that makes them targets of discrimination and repression in overwhelmingly Buddhist Myanmar.
The 7 Days newspaper article said the Myanmar delegation to the General Assembly meeting would "explain about current developments on repatriation and cooperation with international organizations." U.N. agencies have an agreement with Myanmar's government to help resettle the Rohingya when they are repatriated.