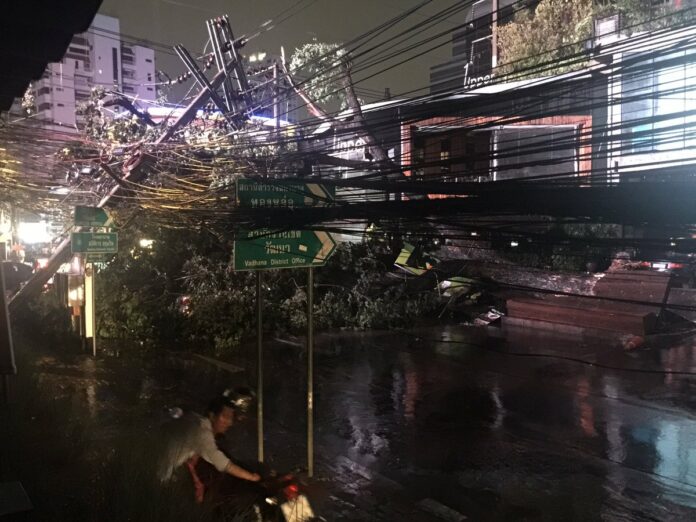 BANGKOK — Traffic in Thonglor was worse than ever Friday night as a huge tree fell down on Soi Thonglor 10 blocking the road during a severe storm.
A blackout occurred on Thonglor Soi 10 and the surrounding streets from 10:10pm Friday as a huge tree was felled by the fierce storm. Two cars were crushed and several electricity poles were toppled, taking out electricity in the vicinity.
Fortunately, no one was injured.
Traffic in Soi 10 has been paralyzed since last night and as of late Saturday morning workers are still trying to remove the huge tree from the road.
22:40 ภาพต้นไม้ล้มทับรถและเกี่ยวสายไฟหม้อแปลงระเบิด ซ.ทองหล่อ10 ไฟฟ้าดับเป็นบริเวณกว้าง จนท.กำลังแก้ไข Cr. Ussin48 pic.twitter.com/WXM0kELhyT

— JS100 (@js100radio) June 17, 2016
22.55ฟ้าผ่าต้นไม้ล้มขวางจราจรซ.ทองหล่อ10 ประสานกฟน.ตัดกระแสไฟ/หน่วยเบสท์กทม.เตรียมเข้าตัดและจัดเก็บโปรดเลี่ยงเส้นทาง pic.twitter.com/BpCIXY4nRB

— ประชาสัมพันธ์กรุงเทพ (@pr_bangkok) June 17, 2016
18/6/59 ซ.ทองหล่อ 10 ปิดการ จร.ชั่วคราว จนท.ทำการตัดทอนต้นไม้ที่ล้มช่วงคืนที่ผ่านมา จนกว่าจะแล้วเสร็จ pic.twitter.com/U6hRAsf2rn

— ศูนย์อัมรินทร์ (@amarin_bkk) June 18, 2016