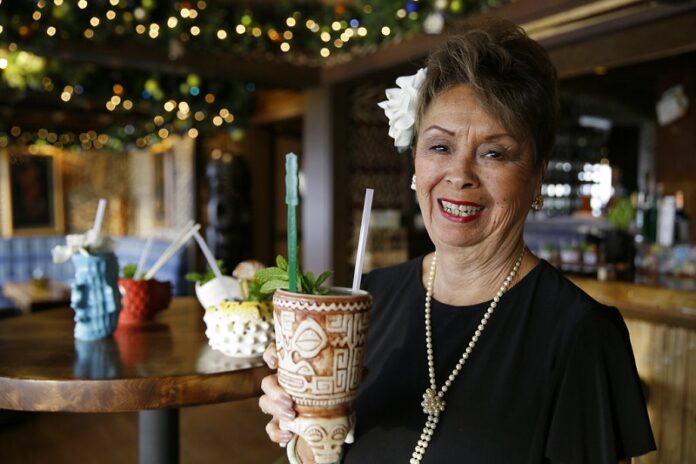 EMERYVILLE, California — She's worn a gardenia in her hair every day since she started working in 1960 at Trader Vic's, the legendary home of mai tai cocktails.
But now Claudette Lum is about to preside over her final seating as a maitre d' at the tiki-themed restaurant. She's retiring at the end of this year at age 80.
She never imagined she'd stay this long when she was hired 57 years ago by Trader Vic's founder, the late Victor Bergeron.
"I just kept going," Lum said. "Making people happy means so much to me, and I've known five generations of families. I feel like all the customers are like my family."
Trader Vic's has grown from a bar in Oakland in the 1930s to a 21st century chain with nearly two dozen outposts in London, Tokyo, Munich, Bangkok, the Middle East and elsewhere. Lum worked at the restaurant's San Francisco location at Cosmo Place, which was its flagship for decades, before moving to its Emeryville restaurant 10 miles away, now its main U.S. location.
A 5-foot-2-inch powerhouse who always sports that trademark gardenia in her hair, Lum was instrumental in defining the Polynesian hospitality for which Trader Vic's became known.
"Claudette is Trader Vic's. She really embodies the true aloha hospitality," said Cathy Bayer, a customer who's known Lum since 1972. Lum personally welcomes "every single person, whether you are a queen or a Jane Doe."
In fact, welcoming a queen is one of Lum's most memorable moments. In 1983, she was summoned to work on her day off when Queen Elizabeth II and Nancy Reagan came in on short notice for dinner in the Lord Trafalgar Room. She had a quick practice session curtsying in front a mirror before getting to work.
Other celebrities welcomed by Lum included Debbie Reynolds, Michael Douglas, Richard Burton and Marlon Brando. She recalled that tennis great John McEnroe and baseball legend Pete Rose refused to wear ties in the days when the restaurant required it. And she remembered a close encounter with the Bee Gees – close because Lum, not recognizing them, turned them away at closing time.
Lum calls her retirement bittersweet. "I love the customers, and they love me, and that's what I'm going to miss the most," said Lum. A mother of four and grandmother of eight, she plans to continue cycling 40 miles a week and spend more time with her partner, who was a chef with Trader Vic's for 46 years.
Peter Seely, CEO and president of Trader Vic's and grandson of founder Bergeron, said, "Claudette isn't employed. She's a member of our family who happens to work in the restaurant. There are four generations of us that all love and adore her. Trader Vic's won't be the same for us once she leaves."
Longtime customer John Huffman of Seattle called her "the epitome of style and grace in the era of fine dining."
Several customers have asked if they'll see her again.
"You'll probably see me walking around with a mai tai," she says, "and now I will be able to sit down and talk to you."
Story: Eric Risberg