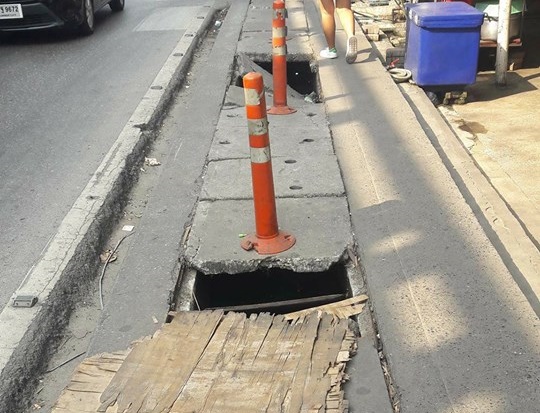 BANGKOK — A pregnant woman Tuesday lodged a protest Tuesday with the government after she fell into a poorly covered storm drain, badly injuring her leg.
Kwanjai Jansert, who is eight months pregnant, was entering the Chatuchak Weekend Market yesterday afternoon with her husband when she slipped and fell down into a drain that was only covered by an unsecured piece of wood.
"We parked our car at the back of the market. We walked along the aisle into the market …  but no lights were on, so it was very dark," Surawut Kamdee, the victim's husband, said in comments outside the Government House today. "I took her to the hospital because she was bleeding a lot."
Kwanjai sustained injuries to her right leg and received 42 stitches. There was no impact on her pregnancy, Surawut added.
He also said their attempt to complain to Chatuchak district officials went ignored. He was told by someone answering the phone that the area is not under the responsibility of the Bangkok Metropolitan Administration, or BMA, but the state railway, which also hasn't responded to the incident, he said.
Broken manholes and unprotected sewage drains across the capital city have been a long-standing problem and cause regular accidents, sometimes fatal.
Last week, a university student badly injured his leg after he fell into a drain in northern metro Bangkok when its metal cover broke under his weight. Late last month, a woman almost drowned when she accidentally stepped into an unfenced and uncovered culvert also in Chatuchak. In 2017, a 4-year-old girl in Samut Sakhon died after she fell into an uncovered drain.
A year ago the BMA reportedly received more than 750 complaints of people falling into drains in half a year's time, according to Thai PBS.