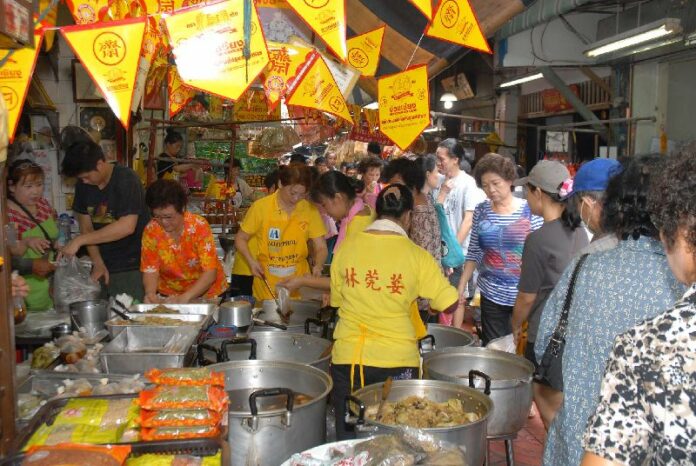 (6 October) As many Thai-Chinese start their celebration of the Vegetarian Festival (กินเจ or Je as the Thais call it), the Ministry of Commerce steps in to fight the price hike of vegetables across the country.
The Festival, which has roots in Taoist belief celebrating the "Nine Emperor Gods", spans for 10 days in ninth Lunar month of the Chinese calendar. Adherents to the festival refrain from consuming meat, poultry, and dairy products out of belief that the forbearance would bring blessing.
The absence of such products naturally stimulated increasing demands for vegetables, which reflected into the annual hiking prices of the product.
The Ministry of Commerce had announced a plan to tackled the price increase, arranging for the cheaper vegetable stalls to be available to the public. According to Mr. Yanyong Phuangrat, Commerce Minister , the vegetable in the state-sponsored markets will be "10-15 THB cheaper that the market price" in order to ease the customers′ burdens.
Many vegetables are sold at the same price before the beginning of the festival, which falls on 5 – 13 October this year. A survey indicates that Chinese Broccoli costs 30 THB/Kg, White Cabbage 50 THB/Kg, Cauliflower 70 THB/Kg, Chinese Morning Glory 30 THB/Kg, Bak Choi 25 THB/Kg, and Dry Shiitake Mushroom 380 THB/Kg.
"The office of commercial affairs in each province were informed to check the price of vegetable at the stalls" said Deputy Minister of Commerce, Mr. Yanyong Puangrach.
Mr. Yanyong said the Ministry has received complaints that the vegetable stalls in Ratchaburi and Chainat provinces had sold the products overpriced. He added, "we will provide cheaper-than-market price vegetables to people in those provinces, if the reports were proven to be true."
Apart from fresh vegetable trades, Ready-to-eat Vegetarian Food stalls also receive overwhelming attention from the festival participants. Our correspondent reported that many vegetarian food stalls have popped up in many markets all around the country.
Yaowarat, Bangkok′s Chinatown, was filled with crowds in the opening day of the festivals. Many street vendors offer cooked meal, fresh materials and dessert to the Chinese-Thais who visited the area.
It is reported that the food stalls offered a food at the reasonable price of approximately 40-50 THB/meal, despite the floods and rising cooking gas price.
One vendor told our correspondent that they intend to keep the price as cheap as the normal periods, and had only increased prices of some menus. However, as more people participated in the festival, they believed the higher revenue should balance the lesser margin from their sales.
It is another story for meat and poultry traders. Our correspondent reported that meat and poultry traders in Nakhon Pathom province are struggling to make good sales during Je Festival, hence reducing the price of meat products.
For comments, or corrections to this article please contact: [email protected]
You can also find Khaosod English on Twitter and Facebook
http://twitter.com/KhaosodEnglish
http://www.facebook.com/KhaosodEnglish