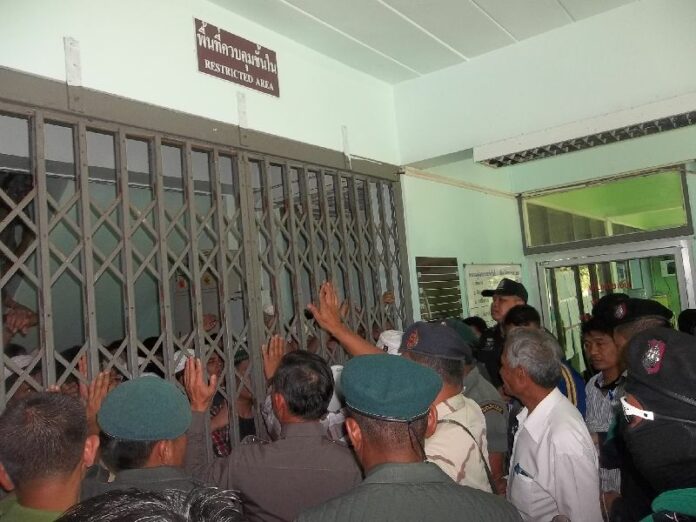 (7 October) Members of the Lawyer Council of Thailand have visited detained Rohingya refugees at the detention centre in Songkhla province on 5 October, following complaints from the detainees about dire conditions of their internment.
Approximately 1,000 Rohingyas have been detained in Songkla, according to Mr. Surapong Gongchantueg, leader of the visiting team, which tours the detention centre as part of their effort to investigate the welfare of the detainees.
Mr. Surapong said he had received many complaints that the living condition in the facilities is sub-standard, and that member of the Muslim ethnic group were not provided with enough space to perform religious pray.
The investigation team of the Council is working in collaboration with Rohingya Humanitarian Group. The team will study whether how there is any human trafficking organisations engaged in the movement of Rohingya people, who had been fleeing ethnic violence from Myanmar to Thailand.
It is also expected to investigate why some Rohingya wished to be transferred from the detention camps.
According to Mr. Surapong, Thailand repeatedly fails to solve the migration problem due to lack of legal works.
The investigative report will soon be proposed to the Lawyer Commission organised by the Lawyer Council, in order to seek legal action to tackle the matter.The Council said they would contact Bangladeshi authority to return those who wish to be deported back to homeland.
Nevertheless, the Council stressed, it is upon the desire of the refugee whether to return to Bangladesh, and it
will seek help from the United Nation to facilitate those who wish to migrate to the third country.
For comments, or corrections to this article please contact: [email protected]
You can also find Khaosod English on Twitter and Facebook
http://twitter.com/KhaosodEnglish
http://www.facebook.com/KhaosodEnglis