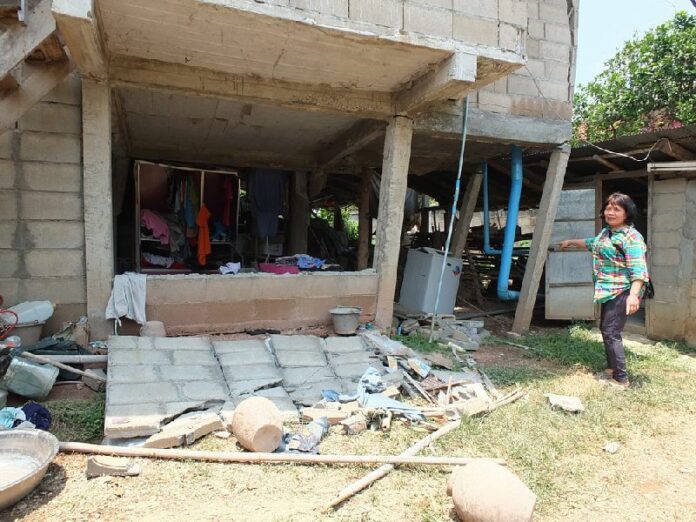 BANGKOK — The 6.0 magnitude earthquake that shook northern Thailand on Monday caused 2 billion baht in damages, a prominent economist has estimated.
Thanawat Polwichai, director of the Centre for Economics and Business Forecasting, said the toll would have been significantly higher if the quake had struck in an area more industrialised and populated than the mountainous province of Chiang Rai.
The earthquake has damaged a large number of roads, temples, and residences, but no factories or industrial estates were affected, Mr. Thanawat noted.
Nevertheless, the province will still suffer from the "psychological effect" of the earthquake, such as a decrease in tourist numbers, Mr. Thanawat said. He also warned that the problem could worsen if more earthquakes with a similar magnitude hit the province in the next few months.
In the long term, potential customers of high-rise condominiums and apartments in northern cities may also be deterred from buying properties due to fears of earthquakes, Mr. Thanawat said.
However, the economist suggested that the earthquake that struck Chiang Rai on 5 May also brought long term positive outcomes, such as the renewed effort by authorities and the private sector to prepare for seismic activities in the future, namely by inspecting and designing structures to match the challenge.
Read More:
Photos: Damage From Chiang Rai Earthquake
Northern Dams Safe Despite Earthquakes: Officials
Thai Government Deploys Military Aid to Assist Earthquake Victims in Chiang Rai
For comments, or corrections to this article please contact: [email protected]
You can also find Khaosod English on Twitter and Facebook
http://twitter.com/KhaosodEnglish
http://www.facebook.com/KhaosodEnglish