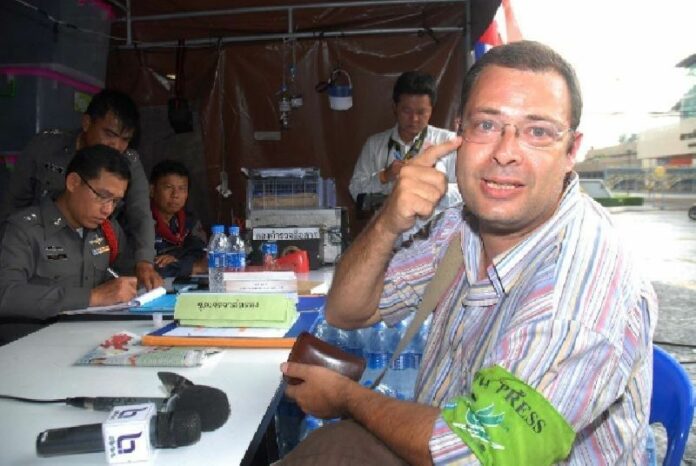 BANGKOK — A German photojournalist has claimed he was attacked by a group of anti-government protest guards while on assignment at the Constitutional Court today.
The incident reportedly happened while Constitutional Court judges were reading the verdict that ultimately found Prime Minister Yingluck Shinawatra and some of her Cabinet members guilty of unlawfully removing the head of the National Security Council (NSC) in 2011.
Nick Nostitz said he was smoking and talking to a friend, a senior BBC correspondent, near the entrance to the court when he was suddenly approached by a group of intimidating men wearing outfits worn by the guards of the anti-government protest group, the People's Committee for Absolute Democracy With the King As Head of State (PCAD).
Speaking to Khaosod English on phone, Mr. Nostitz said the group asked him if he was "Nick" and said that they would take him to "Luang Phu," possibly referring to the Buddhist monk and PCAD leader, Luang Phu Buddha Issara, who was organising a PCAD rally nearby on Chaeng Wattana Road.
Mr. Nostitz said when he refused and tried to leave, the men immediately attacked him and attempted to take him away, startling many soldiers, policemen, and reporters who were stationed in the area at the time.
The German reporter said he called for help, and some policemen eventually intervened and escorted him into the building, away from the PCAD guards. Mr. Nostitz said he left the building through the backdoor soon afterwards.
"They came straight at me," Mr. Nostitz told our correspondent. "Some of them must have remembered me. It looked planned."
Mr. Nostitz was previously attacked by PCAD demonstrators at Ratchadamnoen Avenue on 25 November, after a PCAD activist and former Democrat Party MP urged the crowd to "expel" Mr. Nostitz from the protest site because he was a "Redshirt journalist," an allegation vehemently denied by the German reporter.
Mr. Nostitz added that he fought hard not to be taken away today because he was well aware of what has happened to individuals who were detained by Buddha Issara's guards; media reports have indicated that several police officers have even been held and tortured by the militants.
"I can't imagine what would happen to me. It was very frightening," Mr. Nostitz said.
He said he has filed complaints with the police against the group of PCAD militants who attempted to abduct him today.
Pol.Cpt. Witthaya Kongthong, a police officer at Thoong Song Hong Police Station, said the officers will study CCTV footage of the area to identify the perpetrators. Nevertheless, he admitted that the work will be difficult because it appears that the PCAD guards who were trying to abduct Mr. Nostitz had masked their faces at the time of the incident.
For comments, or corrections to this article please contact: [email protected]
You can also find Khaosod English on Twitter and Facebook
http://twitter.com/KhaosodEnglish
http://www.facebook.com/KhaosodEnglish