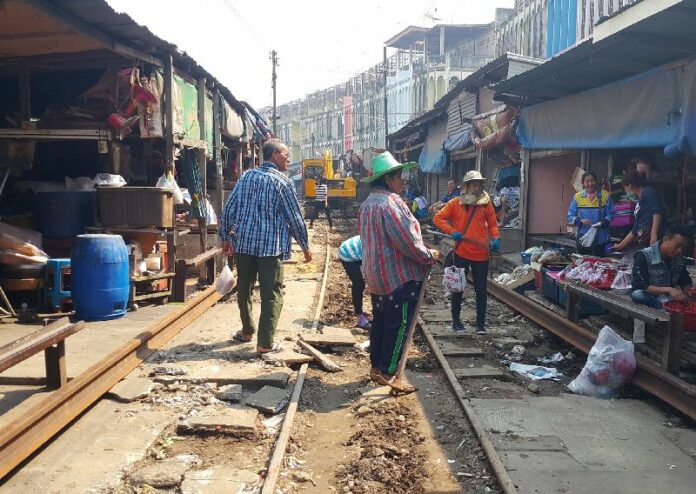 SAMUT SONGKRAM — Trains which run through a market southwest of Bangkok to the awe of tourists will cease operating until April 1, railway officials announced today.
The Mae Klong Railway Market itself will close down due to track maintenance which began Thursday and continues through Feb. 29, said Pattana Wongmucharin of Mae Klong Railway Station.
Vendors and stalls will return to the famous market March 1, but additional work planned for the station means the trains won't run through again until April 1, Pattana said.
The first train will leave the station at 6:02am on April 1, he said.
Pattana said the maintenance effort is part of ongoing repairs to 33.8 kilometers of track on the Mae Klong Railway, which will cost the State Railway of Thailand 432 million baht.
Widely featured in travel guidebooks and shows, the highlight of the Mae Klong Railway Market is the sight of vendors scrambling to move their stalls off the tracks whenever trains approach and run through the center at speed.
Update: The market is open and trains running again today, April 1, on schedule! (True story.)


Crowds gather to witness the resumption of service on April 1, 2016
Teeranai Charuvastra can be reached at [email protected] and @Teeranai_C.