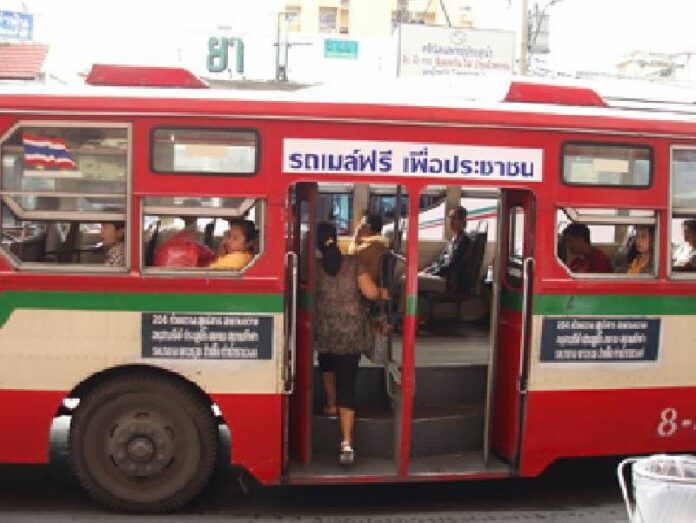 (3 October) Transport Minister Chatchart Sittipan has announced a plan to issue free transport cards for low income earners, replacing the existing program under which only a number of buses and trains are free of charge.
The scheme was first launched under the government of former Prime Minister Samak Sundaravej during the last stage of his term, before he was deposed by a court ruling in 2008.
The program had proven so popular that the preceding government of Ms. Abhisit Vejjajiva repeatedly renewed it, in spite of the Democrats? self-proclaimed opposition toward "populist" policies of Mr. Samak.
Since the program started in July 2008, successive governments had spent over 14 billion baht to support the free transports by subsidising 10 billion baht to the Bangkok Mass Transit Authority (BMTA) and over 3 billion baht to the State Railway of Thailand.
Although Mr. Chatchart said he would renew the program for another 6 months, he acknowledged that the scheme "did not pose the right answer to ease the burden of low-income earners".
He pointed out that under the current program the free buses do not run in every route, and well-off passengers and foreign tourists can also take advantage of the program, whereas the intention of the program is to specifically help the poorer population.
"Free transport has been accessible to too many people and it has not accurately responded to its objective as a policy to support the low-income earners," said Transport Minister, "So we have come up with a resolution, creating a free-pass card for a specific group of people."
The card, according to Mr. Chatchart, would carries photographs and a bar code indicating the information of its holder, such as the limits of how many services they can use.
The Transport Minister believes that the idea will allow low-income earners to have better access to the services. "As the BMTA will not renew the current free buses program in the future, the card would let the low-income earners to be able to access the private-led buses, too, on the budget of the government subsidy," he said.
However, in order to identify who qualifies for the right to free transports, the Ministry of Transport will have to discuss the plan with Ministry of Interior and the BMTA.
"We still have about 6 months to discuss about the plan … we will need to gather information about their income and spending, perhaps based on their annual income and their utilities bill payments," said Mr. Chatchart.
"The card should have no trouble to access the buses free service, as the user can paste the card on the card-reader machine," explained the Minister "the same service should also apply to the train".
In the meantime, the renewal of the existing program will require the government to subsidise another 2,085 million baht for free trains and buses services from 1 October 2013 to 31 March 2014.
For comments, or corrections to this article please contact: [email protected]
You can also find Khaosod English on Twitter and Facebook
http://twitter.com/KhaosodEnglish
http://www.facebook.com/KhaosodEnglish