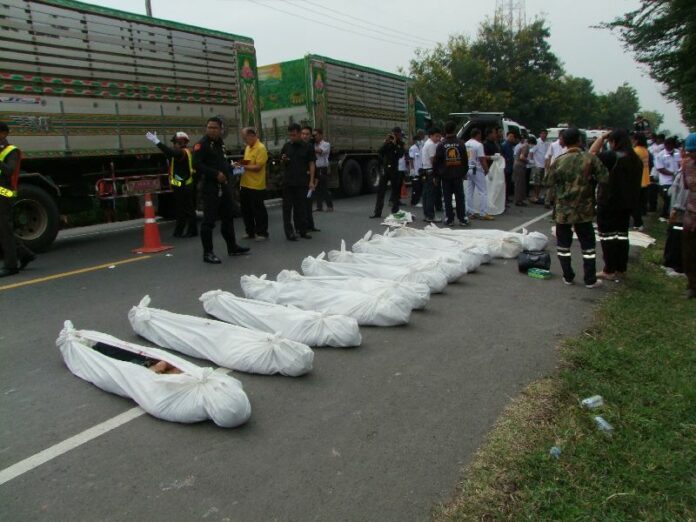 (9 October) Police say the 19 Laotian labourers who were killed in a car accident earlier this week had been victims of transnational human trafficking rings.
24 Laotians, mostly construction workers, were packed on a converted pick-up truck when it slammed into a tree on Buriram – Satuek Road in Buriram province on 7 October. 15 people, including the driver, were pronounced dead at the scene, while 4 more died at the hospital. The rest were severely injured by the accident.
The police said they had found a single tablet of amphetamine and a bottle of alcoholic beverage at the driver′s seat. The driver was thought to have been driving under influence and dozing off when the horrific accident occurred.
A pregnant Laotian woman is also among the dead.
The dead driver had been initially identified as Mr. Chavalit Thawornkham, 24, according to the driver′s license he carried. But further investigation indicated that the man was actually Mr. Suwaphonchai Phanchan, 27, disclosing the fact that he had carried a fake license.
It was also difficult for the police to identify the casualties at the scene, as none of the passengers was travelling with any ID or relevant documents.
The police later realised that the passengers are illegal workers from Laos who had illegally crossed the border to work in Samut Prakarn province. The police believe they had been brought to the kingdom by human traffickers.
According to one of the survivors, Mr. Pu Liamwongrat, a native of Laos? Salavan province, he and his colleague wished to travel from Samut Prakarn to his homeland, so they joined the group of workers who had hired Mr. Suwaphonchai to drive them to Ubon Ratchathani, where they would cross the border to visit their homes in Laos.
Mr. Suwaphonchai′s vehicle had not been registered as commercial vehicle and had been modified without proper license. Police said the driver charged his passengers 1,000 baht each, and drove on deserted route at night to avoid police detection.
The pick-up truck had also exceeded passenger limit, as 25 people were on-board at the time of the accident.
Mr. Pu, the Laotian worker, also revealed to the police that they had been brought to Thailand by an agent, who required them to pay THB 2,300 each for the "services fee", with which accommodations and jobs are provided.
The police said further investigation is under way and vowed to tackle human trafficking around Thailand and its neighbouring countries, using the existing leads and evidences from the deadly incident on 7 October.
For comments, or corrections to this article please contact: [email protected]
You can also find Khaosod English on Twitter and Facebook
http://twitter.com/KhaosodEnglish
http://www.facebook.com/KhaosodEnglish