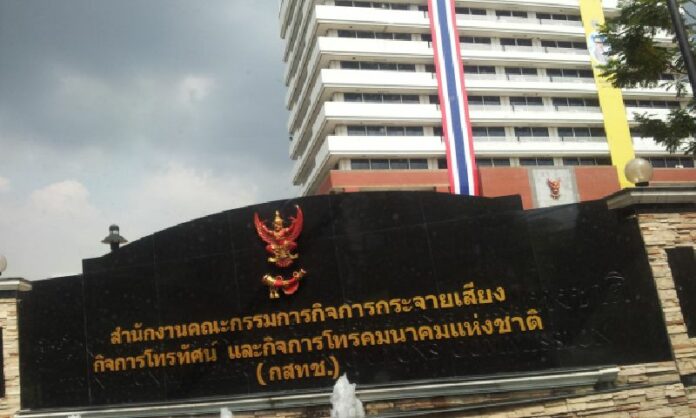 (9 October) The National Broadcasting and Telecommunications Commission (NBTC) has announced digital TV signals rates amidst the ongoing controversy over digital TV spectrum auction between Channel 7 and one of its former bosses.
According to Mr. Thakorn Thantasith, Secretary-General of the NBTC, the monthly fee for standard definition signal on digital TV is set to start from THB 4.7 – 5 million, and THB 15 million for the high definition signal.
The auction is due to take place on 28 – 29 October, and the NBTC ruled that each representative must hold no more than 10% stakes of each company that auctions for the same signal.
The ruling was announced as Channel 7 is locked in a battle with its influential former director, Ms. Surang Prempri, who said she would lead her new TV company Chan 25 to auction for the same signal as Channel 7, in spite of her 21% share in the former company.
Top officials of the state-owned Channel 7 have demanded that Ms. Surang relinquish her shares before the auction, otherwise the NBTC would be obliged to rule the auction illegitimate, causing damage to both Channel 7 and Chan 25.
Mr. Surachai Danaitangtrakul, legal advisor for Chan 25, said Ms. Surang will not sell those shares, as the real price of her share had increased several times higher than the period when she was first given the share at the par value of THB 100.
The legal adviser to Chan 25 added that since Channel 7 is not registered with the Stock Exchange of Thailand (SET), it fails to evaluate the real price of its share, and Ms. Surang is therefore reluctant to sell the shares without knowing the proper values of her shares."Chan 25 is completely qualified for the auction, and had prepared its studio worth THB 200 million, and THB 1 million capital to auction for HD signal" insisted Mr. Surachai, "and if the company is unjustly disqualified, we will appeal to NBTC to call for justice".
Channel 7 representatives also informed the NBTC that Ms. Surang no longer holds any functioning role at the channel.
However, Mr. Natee Sakulrat, NBTC Deputy President, also stressed that the guideline was clear, and suggested the two should negotiate in comply with the rules of NBTC.
Sources have suggested there is suspicion among Channel 7 officials that other competitors might have encouraged Ms. Surang to engage in the auction in order to nullify Channel 7′s attempts to expand in digital TV market.
NBTC had also held an informative meeting last week to advise all companies attending the auction about the conditions and announced that it is willing to assist every company should there be any queries regarding the auction.
For comments, or corrections to this article please contact: [email protected]
You can also find Khaosod English on Twitter and Facebook
http://twitter.com/KhaosodEnglish
http://www.facebook.com/KhaosodEnglish