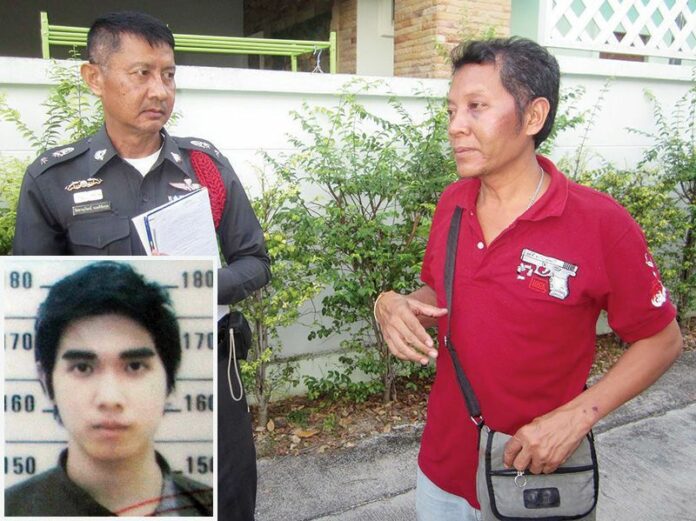 (4 November) A man has stabbed his own son to death after he attempted to break up the fights between the suspect and his wife, police said.
Police in Chonburi province told our correspondent the incident took place yesterday morning in Banglamung District. At the scene, the police found Mr. Ouaypon Lengchamnon, 41, who confessed to killing his son, Mr. Kittichat Lengchamnon, 19, with a knife.
The police promptly arrested Mr. Ouaypon. They also found blood-stained knife and iron pipe in the house.
Mr. Ouaypon told the detectives that he was previously engaged in a fight with his wife, which Mr. Kittichat attempted to stop by hitting him with the iron pipe. Mr. Ouaypon said he was greatly incensed by his son′s action, so he grabbed a knife in anger and stabbed Mr. Kittichat to defend himself.
Autopsy reports show that Mr. Kittichat was stabbed in his chest and stomach.
Mr. Naruesorn Lengchamnong, 20, the brother of Mr. Kittichat, said he was sleeping on the second storey of the house when he heard the fights downstairs. When he reached the scene, he said, Mr. Kittichat had already collapsed in the pool of blood. Mr. Kittichat later died at hospital.
Mr. Naruesorn added that Mr. Ouaypon occasional gets drunk and assaults his wife. He believed his brother could not stand the sight of his mother being beaten any longer and decided to intervene.
For comments, or corrections to this article please contact: [email protected]
You can also find Khaosod English on Twitter and Facebook
http://twitter.com/KhaosodEnglish
http://www.facebook.com/KhaosodEnglish