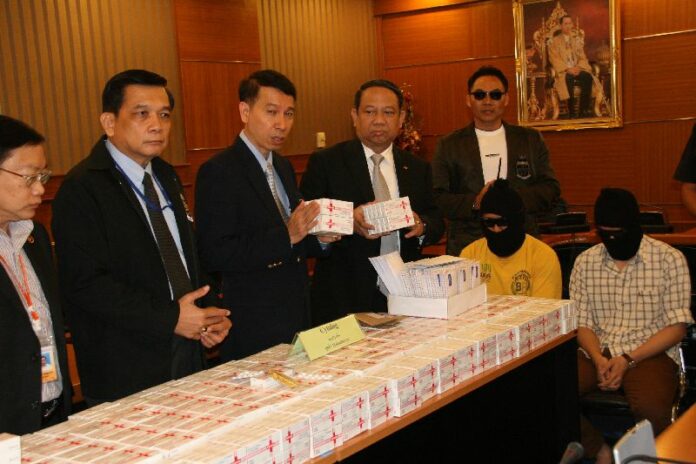 (13 December) The Division of Special Investigation (DSI) has arrested a man accused of selling thousands of illegal abortion pills on the internet.
Police said Mr. Somchai Sunancharoen, 48, sold the drugs via 9 websites he has been running.
Mr. Tharit Pengdith, Chief of DSI, announced at a press conference that police also found 120 packages of the drug, with 2,008 unpacked tablets worth no less than 1 million baht and 51,018 unlabeled tablets worth 30 million baht at the suspect′s house in Mueang district, Nakhon Pathom province.
Reportedly, Mr. Somchai had run his websites for over a year, and had received over 20,000 orders during June to December 2013, pocketing an income of approximately 4 million baht a month.
The pills are reportedly sold at varied prices, depending on the stage of pregnancy. Moreover, many of Mr. Somchai's customers are college students and women who purchased the drugs for personal use, said Mr. Tharit.
Abortion is illegal in Thailand, with exceptions of unwanted pregnancy due to the mother's health and criminal abuse. Unwanted pregnancy is described as a major factor for abortion, according to statistics in 2010, where 71.5% of women interviewed in the survey claimed they had become pregnance unintentionally while 53.1% of the sample also mentioned that they had ignored birth control methods.
In the same poll gathered from 101 hospitals in 13 provinces, 28% of 15 – 19 years old women have gone through abortion, whereas 30.4% were students, and 45% stated that they have no income.
Many women with unwanted pregnancies turned to illegal clinics, which put them at risk of having infected complications and severe miscarriage. Statistics from the Ministry of Public Health revealed that nearly 300,000 women go through illegal abortions each year.
For comments, or corrections to this article please contact: [email protected]
You can also find Khaosod English on Twitter and Facebook
http://twitter.com/KhaosodEnglish
http://www.facebook.com/KhaosodEnglish