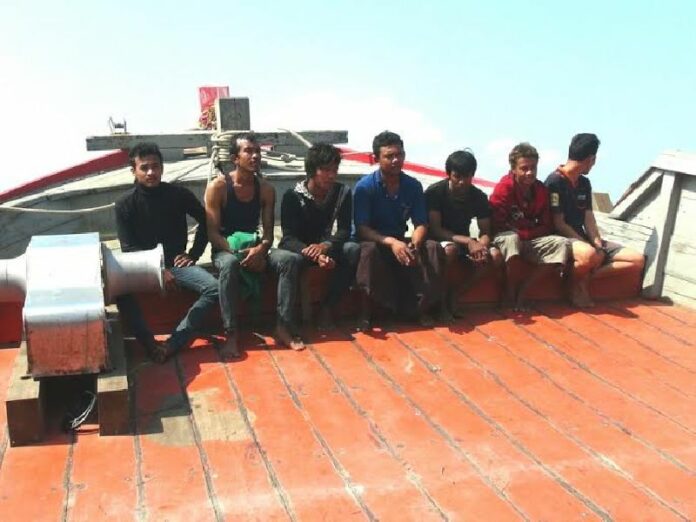 (24 March) The Royal Thai Navy said they have arrested a group of human traffickers who were en route smuggling Rohingya refugees into Thailand.
The suspects, Thai and Burmese nationals, were on board three large ships which were just about to depart from a port in the Mueang district of Ranong province today when Navy personnel spotted the boats and made the arrests, said Lt.Col. Thaweepon Kanathong, a regional director of the Internal Security Operations Command (ISOC).
Authorities have been investigating reports of Ranong-based smugglers who transport Rohingya refugees from Myanmar into Thailand, to be sold later to human traffickers, Lt. Col. Thaweepon said.
Today's raid on the three boats and subsequent arrests followed a tip-off from local informants, Lt.Col. Thaweepon added.
Upon inspection on the ship, Navy servicemen reportedly found large cargo spaces converted into hideouts for more than 100 Rohingya passengers. Supplies such as water tanks, canned fish, and instant noodles were also stored on the board, presumably to feed the refugees during the sea voyage.
17 people have been arrested in connection with the crime. All of the suspects confessed that they intended to sail to Myanmar where they would pick up Rohingya refugees before returning to Thailand, said Lt.Col. Thaweepon.
According to Lt.Col. Thaweepon, the suspects claimed they had previously smuggled over 200 Rohingyas into Thailand and sold them to a Thai dealer. The suspects reportedly claimed they did not know the whereabouts of the sold Rohingya refugees, but Lt.Col. Thaweepon said the authorities suspect the refugees had been sold to local human traffickers in Satul, Ranong, and Phan-Nga provinces.
"We will thoroughly interrogate the suspects before we send them to the civil authorities for legal prosecution," Lt.Col. Thaweepon said, "We have already informed relevant authorities to locate and rescue the 200 Rohingyas".
He added that the Myanma suspects would also face charges for residing in Thailand without valid permits.
According to a number of media reports, flows of Rohingya refugees into Thailand have increased over several years due to ethnic violence in Myanmar, where the Rohingyas were treated as "second-class citizens" and allegedly subject to brutal discrimination.
In December last year, the Royal Thai Navy pressed libel charges against two editors of an online news site based in Phuket province for running a story, originally penned by Reuters, which claimed that some Navy personnel either were involved in the human trafficking of Rohingya refugees, or turned blind eyes to the trade.
If found guilty, Mr. Alan Morison, an Australian citizen, and his Thai colleague, Ms. Chutima Sidasathian, could face up to five years in prison under the Computer Crimes Act. Various civil rights groups, including Human Rights Watch, have urged the Thai Navy to drop the complaint.
Read more: Navy Uses Computer Act to Sue Journalists