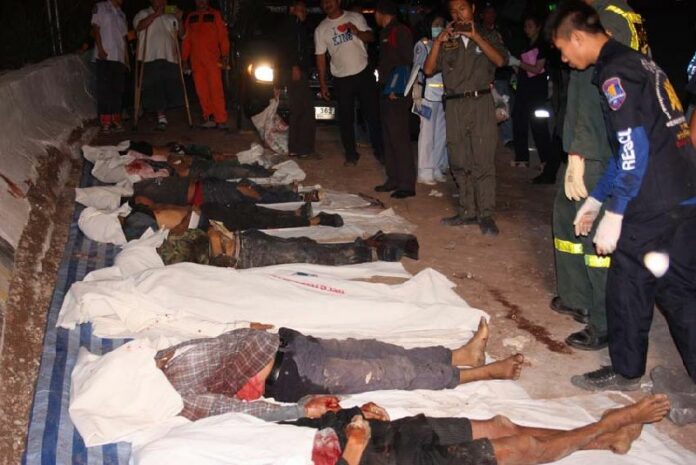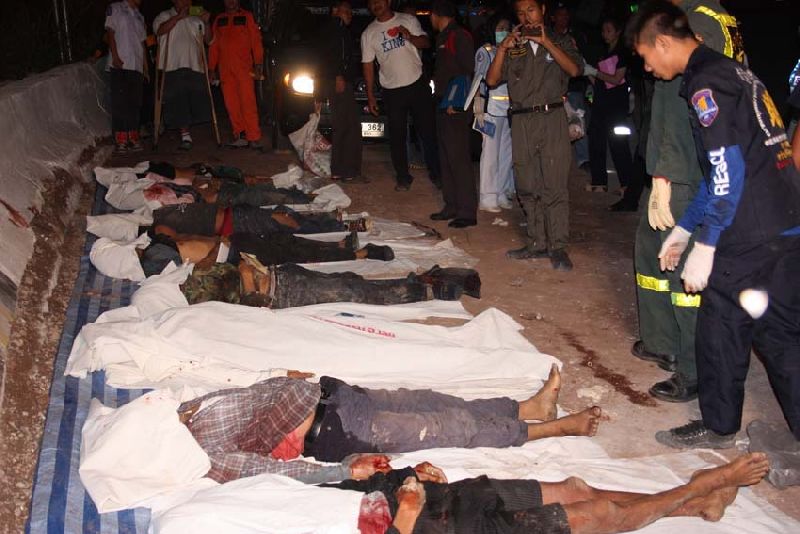 (7 April) A modified 10-wheeler truck has crashed in Loei province, killing at least 12 passengers en route to their hometowns for the Songkran holiday.
The incident reportedly took place at around 02.00 at the 23-24 km section of Sai Road, that runs downhill into a perilous bend. At the scene, rescue workers found wreckage of the truck smashed into concrete wall on the side of the road.
Some of the deceased passengers were found in a ravine close to the wreckage, presumably due to the impact of the truck crash.
Police said 9 people died at the scene, and three more passed away at the hospital. At least 10 people are also reported injured, the owner and the driver of the truck have been detained by the police.
The owner, Mr. Yan Puangkaew, told police that the truck departed Si Satchanalai district at around 18.00 with 26 employees who worked at his sugar cane farm. Mr. Yan said he appointed Mr. Loet Mankong to drive the truck to take him and his employees home to Nakhon Phanom province, so they could celebrate Songkran – or Thai traditional New Year – with their families.
When the truck started to descend down the slope, Mr. Loet said, he lost control of the vehicle, possibly due to faulty brake, and so he decided to slam the truck into a concrete wall to stop the vehicle. However, the impact caused the truck to overturn and hurl many passengers off to their deaths.
According to the police, the truck had been converted to hold some cargo on its roof, and a number of passengers were sitting on the upper part of the truck at the time of the accident.
A police officer added that the area where the accident occurred is known by the local residents as "Curve of 100 Deaths" due to frequent road fatalities in the vicinity.
It is not immediately clear whether Mr. Loet and Mr. Yan will face any charges.
For comments, or corrections to this article please contact: [email protected]
You can also find Khaosod English on Twitter and Facebook
http://twitter.com/KhaosodEnglish
http://www.facebook.com/KhaosodEnglish