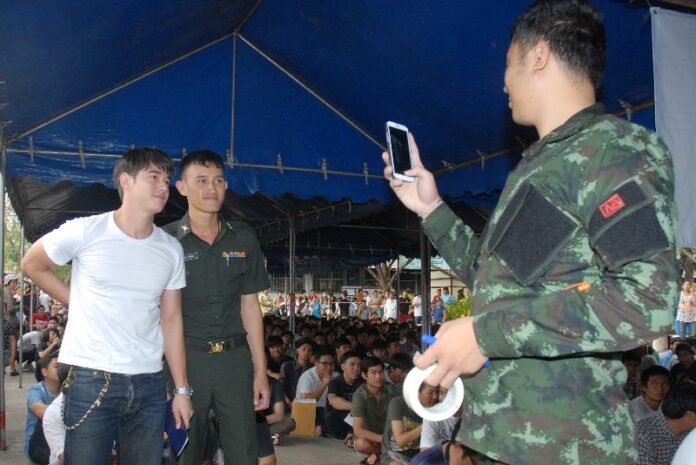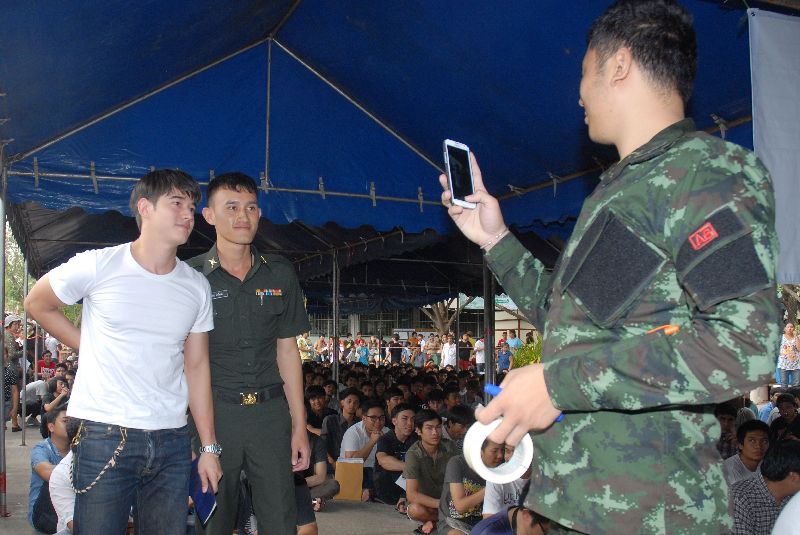 (7 April) Two celebrity actors, Nadech Kugimiya and Mario Maurer, have been spared from the annual mandatory military service.
According to Thai law, all Thai males must report for a 2-year military service when they reach the age of 21, unless they registered for Reserve Force and received military training in their high school years.
Citizens with medical conditions are exempted from the draft. Transgenders ("ladyboys") are also barred from the military draft due to their physical genders.
In early April each year, the media is abuzz with speculation on which celebrity heartthrobs will "pick the red card" and join the military. For 2014, Mr. Nadech and Mr. Mario are qualified for the draft, and each actor reported to their regiment officers in their hometowns.
Mr. Nadech, who turned 23 this year, arrived at the draft registration and selection venue at Central Plaza shopping mall in Khon Kaen province this morning. It is his third appearance at the annual military draft; the actor has requested for postponement of the military service for the last two years.
However he did not simply show up for the draft, he was contracted to be a "presenter" at the military service with the Royal Thai Army. The filming of the VTR took place at the venue, with Mr. Nadech going through each station and explaining what the applicants were required to do in order to comply with procedures.
"To sign up for the military service is an important duty for all Thai men," Mr. Nadech told the camera.
Large groups of his fan club gathered just outside the registration hall and, despite the officers' efforts, some of them even managed to slip through security barriers and enter the venue to take close up photos of Mr. Nadech.
After the filming was completed, Mr. Nadech proceeded to the medical checkup station, where a doctor announced that he suffers from the medical condition of asthma. He was thus exempted from the draft under military regulations which bar applicants with medical conditions unsuitable for training.
The army's presenter then expressed his sadness at the news that he will not be eligible for the military service, and admitted that he was already aware of his condition prior to the registration as he had already gone through a check-up at Phra Mongkut Klao Hospital.
"I genuinely intend to sign up for the service in the army today after I postponing it for 2 years," Mr. Nadech told reporters after he secured the exemption document, "But due to my [health condition] I cannot be a soldier. It made me very sad, because I want to be a soldier and serve our country".
He added, "Although I cannot serve my country as a soldier, there are many other duties I can do to serve the country … I will help our nation by being a good citizen, with good thoughts, good words, and good deeds."
On the same day, the 25-years old Mr. Mario showed up for the draft at Wat Krathum Suea Pla School in Bangkok's Pravet district. The actor has previously postponed his military service for 3 times, and he applied for another year of postponement today, citing his needs to attend university classes.
The draft officer informed Mr. Mario this would be his last chance of postponement, and that he would have to pick the red and black cards like other applicants next year.
Other actors and celebrities have eluded the mandatory military service in the past, mostly with health and education reasons.
A notable exception was Mr. Sornram Teppitak who was drafted in 2000 at the height of his career. He was discharged two years later with a rank of corporal.
Famous politician Chuwit Kamolwisit also posted on his Facebook this week that his son has picked a "red card" and would enter the military service this year.
Correction: The original version of this article incorrectly mentions "black card" as the ticket for military draft, when in fact it is "red card"; applicants who pick "black cards" are exempted from military service.
For comments, or corrections to this article please contact: [email protected]
You can also find Khaosod English on Twitter and Facebook
http://twitter.com/KhaosodEnglish
http://www.facebook.com/KhaosodEnglish