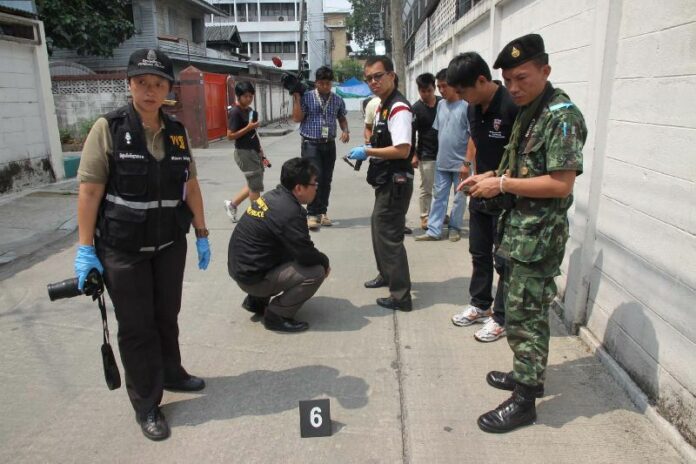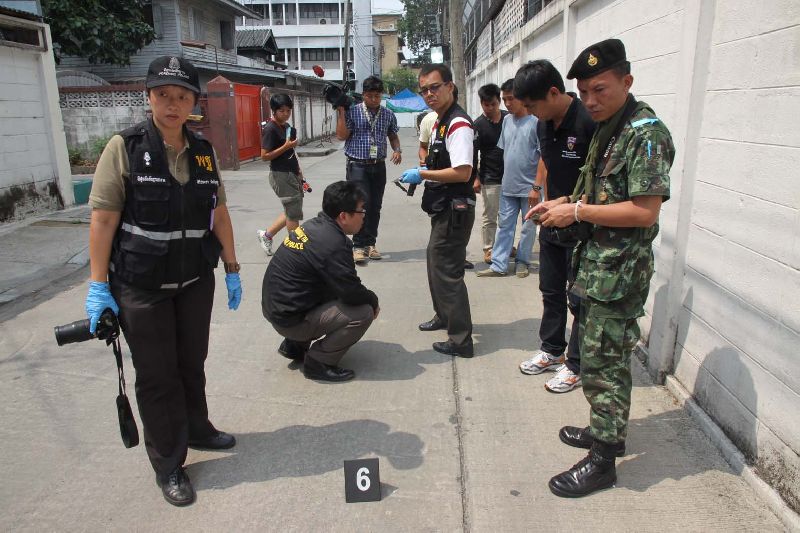 (7 April) The head of anti-government protesters' security force has disputed reports that their members have shot and wounded two soldiers on their patrol.
One sergeant and one corporal were reportedly shot at by unidentified assailants as they patrolled the area in Soi Likhit behind Wat Benchamabopit Temple on the night of 5 April, close to the campsite manned by anti-government protesters, police said.
Media reports indicate that the pair were not wearing uniforms at the time. Police said both soldiers were shot in their shoulders.
After inspecting the crime scene with forensic officers, Pol.Lt.Col. Sitthisak Nakamart said the police found one 11 mm. handgun bullet and residues of the bullet's copper jacket in the area.
According to Pol.Lt.Col. Sitthisak, witnesses told police the soldiers were a part of 5-member patrol team, and they were patrolling the road near protest campsite on motorcycle on the night of the incident. He said unidentified gunmen opened fire at the team at around 21.00, wounding them and causing them to fall from their motorcycle, while the rest of the patrol team scurried away for safety.
Pol.Lt.Col. Sitthisak added that the wounded soldiers "are not in any condition to give testimony", and witnesses to the shooting claimed they could not clearly see the attackers, while public CCTVs in the area were somehow titled upward and unable to capture the incident.
However, Pol.Gen. Worapong Chiewpreecha, deputy chief of the Royal Thai Police, said in a press conference that security guards employed by anti-government protesters were most likely responsible for the shooting, citing evidence gathered by the police.
"The investigation on the ballistics has pointed to the position of the NSRT," Pol.Gen. Worapong said, referring to the Network of Students and People for the Reform of Thailand, "It indicates that the demonstrators were armed. The police have previously tried to intercept these weapons by setting up checkpoints, and we must double our effort".
He also vowed to seek search warrants from the court so the police can search for any weapons inside the NSRT campsite.
But Mr. Nasser Yeehma, head of the NSRT's security guards unit, told reporters that his security team was certainly not responsible for the shooting, as the incident occurred outside the area maintained and monitored by NSRT guards.
As a gesture of goodwill, Mr. Nasser said his representatives will send a flower basket to the wounded soldiers who are currently in hospital. Nevertheless, he voiced his suspicion over why the two soldiers were not wearing uniforms at the time.
"Let me stress that the NSRT is rallying in peaceful manner and without any weapons," Mr. Nasser said.
Meanwhile, Lt.Gen. Abhirat Kongsomphong, commander of the 1st Infantry Division, said he believes the soldiers were shot "due to misunderstanding", without naming anyone as the suspected perpetrators.
Lt.Gen. Abhirak added that the army has already lodged complaints over the shooting at Dusit Police Station.
For comments, or corrections to this article please contact: [email protected]
You can also find Khaosod English on Twitter and Facebook
http://twitter.com/KhaosodEnglish
http://www.facebook.com/KhaosodEnglish