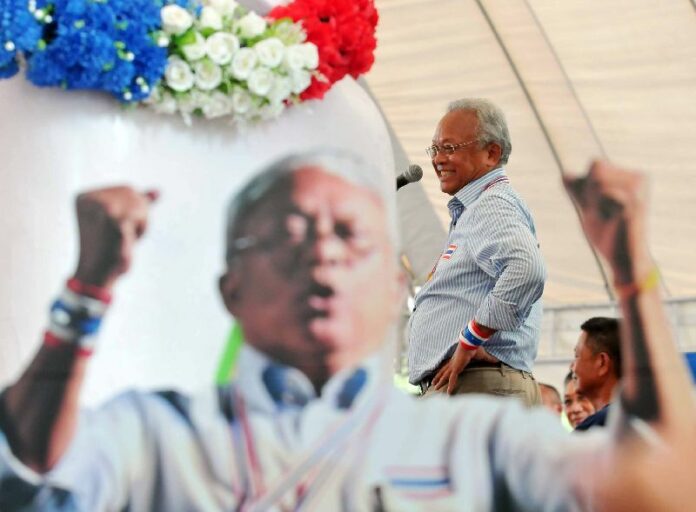 (7 April) The Division of Special Investigation (DSI) will seek legal action against anti-government protest leader Suthep Thaugsuban for publicly vowing to launch a "People's Coup" against the government.
DSI Chief Tharit Pengdith said officials are already transcribing the footage of the 5 of April rally organised by the People's Committee for Absolute Democracy With the King As Head of State (PCAD) in which its sec-gen, Mr. Suthep Thaugsuban, delivered a fiery speech concerning his plan to overthrow the government of Prime Minister Yingluck Shinawatra.
Mr. Suthep has said he would install himself as a "Sovereign Body" and present his own list of Prime Minister and Cabinet members to His Majesty the King to seek his Royal Approval. The PCAD will establish unelected legislative bodies afterwards, he explained, and implement series of "reforms" in Thailand.
He called his effort a coup by the people, as opposed to coups launched by the military in the past.
According to Mr. Tharit, Mr. Suthep's speech risks violating Article 113 of the Criminal Codes, which prohibits any attempt to illegally overthrow democratic regime either by violence or by coercion.
"It is clear that Mr. Suthep's speech to the demonstrators reveals his intention to overthrow democratic regime," Mr. Tharit explained.
He added that the remarks will be used as evidence against Mr. Suthep in the court; the protest leader is already facing a separate charge of insurgency filed by the authorities.
The DSI will consult with the Centre for Administration of Peace and Order (CAPO) to seek legal guidance on how to further prosecute Mr. Suthep for his speech, Mr. Tharit said.
Related Story: Suthep To Seek Royal Approval For His 'People Coup'
For comments, or corrections to this article please contact: [email protected]
You can also find Khaosod English on Twitter and Facebook
http://twitter.com/KhaosodEnglish
http://www.facebook.com/KhaosodEnglish