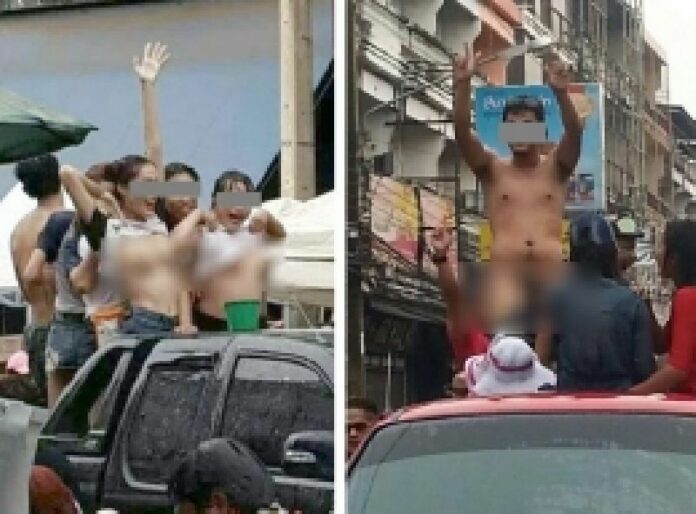 (15 April) Two 'ladyboys' have been arrested in Pitsanulok province and forced to apologise to local spirits for exposing their breasts during Songkran reveling.
The image of a group of ladyboys (transgenders) showing their breasts on a pick-up truck in the water fights festival have been widely shared on the internet, attracting many condemning comments on the social network.
Today the police said they have arrested Mr. Chartchai Si-Arwut, 23, and Mr. Warot Theesoongnoen, 21, in connection to the incident. According to the police, Mr. Chartchai and Mr. Warot exposed their breasts to the public as they were riding on their pick-up truck in Mueang district on 13 April.
Both suspects have been charged with indecent exposure and are set to be fined at 5,000 baht for their offence. However, the police agreed to decrease their fines to 500 baht per person.
Mr. Chartchai and Mr. Warot were also escorted to a shrine where they prayed to local spirits, begging for their forgiveness lest the spirits had been offended by their improper behaviour.
In addition, the police said they are still trying to locate and arrest a man who was photographed showing his penis to the crowd of Songkran revelers in Pitsanulok province.
CCTV footage collected from Pitsanulok town centre is being studied by the police officers to identify the man.
For comments, or corrections to this article please contact: [email protected]
You can also find Khaosod English on Twitter and Facebook
http://twitter.com/KhaosodEnglish
http://www.facebook.com/KhaosodEnglish