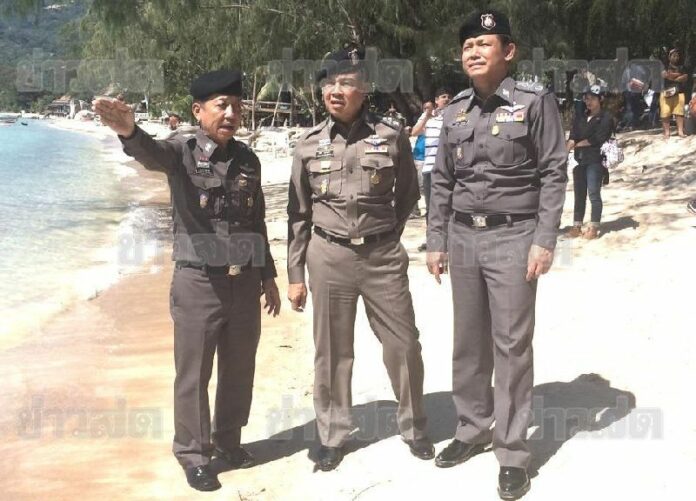 BANGKOK — Thailand's chief of police says DNA tests reveal that two "Asians" were behind the murder of British tourists on a resort island in southern Thailand last week.
"The DNA tests reveal that the two culprits are Asians," said Pol.Gen. Somyot Pumpanmuang after visiting the crime scene on Koh Tao yesterday. "We will try to find the culprits for prosecution in a timely manner."
David Miller, 24, and Hannah Witheridge, 23, were found bludgeoned to death on Koh Tao Island on 15 September, but police have yet to pin down a suspect or motive behind the murder.
According to Pol.Gen. Somyot, Thai police initially planned to submit DNA samples from semen found on Ms. Witheridge's body to the US Federal Bureau of Investigation (FBI) to help with racial identification, but later decided against it.
"We can do it on our own, so we have halted the process to contact the FBI to determine the ethnicity of the DNA," Pol.Gen. Somyot said.
It is disputed whether DNA samples can effectively determine ethnicity.
"I have instructed the police to work at their best capacity, because this is about reputation of the country," Pol.Gen. Somyot told reporters. "We also want to create confidence to tourists and residents in the area."
The police chief also insisted that the "case has seen a lot of progress," despite the lack of any potential suspect.
"The investigation seemed dark at its beginning, but right now we are on the right track," he said. "The jigsaw pieces are coming together … I am confident the culprits are still on the island."
Pol.Gen. Somyot said police are still questioning and collecting DNA samples from Burmese migrant workers on the island.
"One of them looks similar to the man seen on CCTV footage, which was taken at a nightclub near the crime scene," Pol.Gen. Somyot said.
He was referring to the CCTV footage that showed an "Asian-looking man" walking and "behaving suspiciously" on Sairee beach, near where Milller and Witheridge's bodies were found the next morning.
Meanwhile, the reward for information leading to an arrest of the culprit(s) has been raised to 200,000 baht thanks to contributions from senior police officers and state officials.
For comments, or corrections to this article please contact: [email protected]