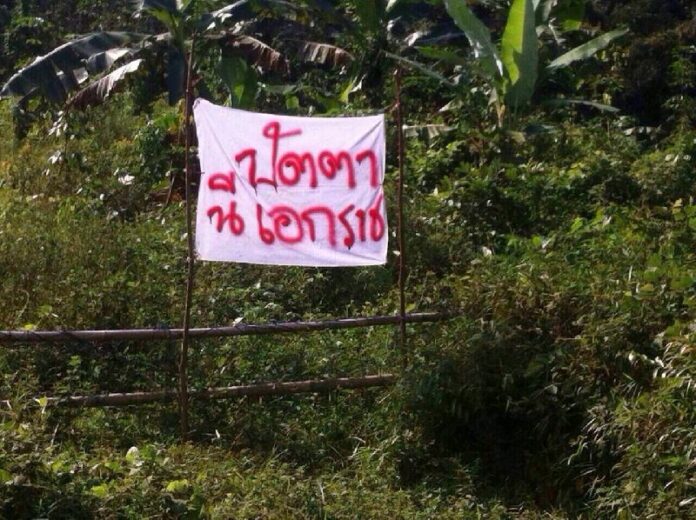 NARATHIWAT — A 25-year-old man was injured by a homemade bomb that authorities suspect was intended target security officers in the restive province of Narathiwat this morning.
The bomb was planted at the foot of a banner that expressed support for an independent state comprised of the three southern border provinces at a cornfield in Sri Sakorn disrict, police say.
A 25-year-old man spotted the banner at around 8 am and approached the sign to inspect it, triggering the explosive, police say. The victim is being treated for injuries at the hospital.
Police officers also discovered another homemade mine near the banner when they inspected the crime scene. The bomb was destroyed by an EOD team.
Pol.Lt. Daoyod Keyusa, an officer at Sri Sakorn Police Station, said he believes the two explosives were planted to target security officers in the area.
On the same day, a roadside bomb exploded in Pattani province, injuring a soldier who was riding in a pick-up truck on the road.
Tens of thousands of troops, policemen, and armed volunteers have been deployed in the border provinces of Pattani, Yala, and Narathiwat since waves of Islamic separatist violence broke out in 2004.
The security forces face almost daily attacks from militant groups who are fighting to revive the Islamic state of Pattani, which was independent before it was incorporated into Thailand in early 20th century.
More than 6,200 people have died in the insurgency that has gripped the three provinces, known as the Deep South, for a decade.