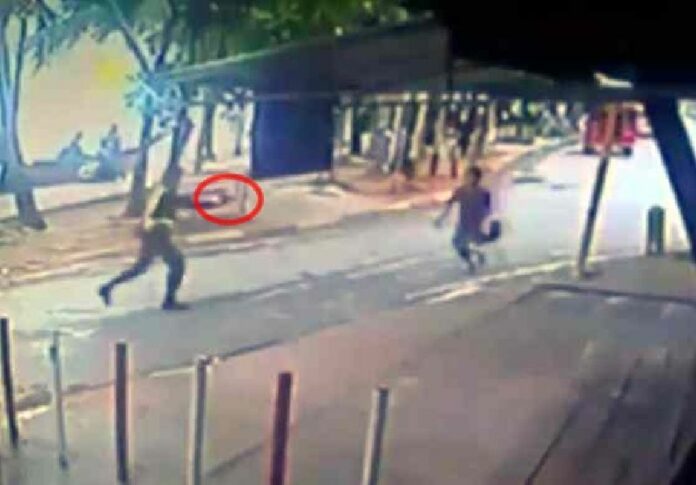 KRABI – A motorist is under arrest on suspicion of attacking a police officer with a knife after he was fined for illegally parking near a police box in Krabi province.
The incident took place at around 3 pm yesterday near Ao Nang Beach in Plai Praya District. Police say Pol.Sgt. Abhichart Naksa-nga and another police officer spotted the suspect parking at a prohibited spot and approached the man to issue a fine.
However, the motorist, identified as Thawatchai Bhodirak, 21, reportedly refused to take the ticket or move his car. Instead, Thawatchai loudly berated the police for interfering with his parking and attempted to drive away when the two police officers tried to detain him, police say.
Apparently angered by the confrontation, Thawatchai allegedly took out a two-foot-long knife and slashed Pol.Sgt. Abhichart's right hand. According to the police statement, the suspect then came out of his car and tried to stab the officer again, forcing Pol.Sgt. Abhichart to fire two shots in the air, which failed to deter the suspect.
Pol.Sgt. Abhichart shot at Thawatchai's leg when he kept charging at the two officers, said Pol.Lt. Weerapan Kongpul, an officer at Mueang Krabi Police Station.
The altercation took place in front of many vendors and tourists on the beach and was captured on several CCTVs in the area.
Thawatchai was eventually arrested and sent for drug test at Krabi Hospital. He has been charged with attempted murder and insulting state officials. The suspect confessed to the crime, Pol.Lt. Weerapan told reporters.
For comments, or corrections to this article please contact: [email protected]