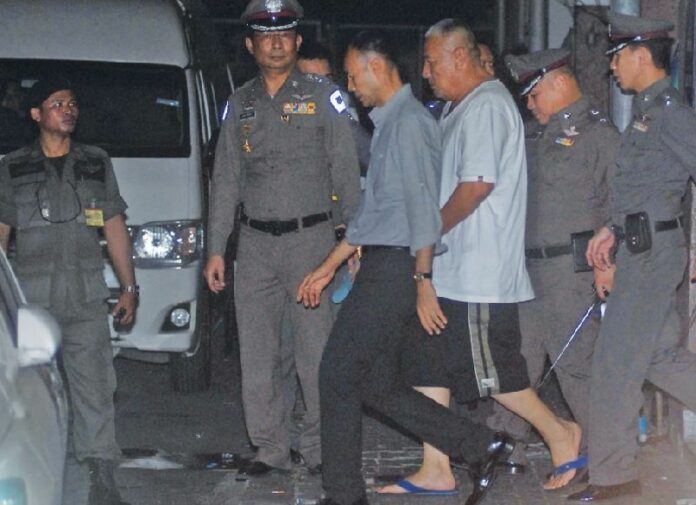 BANGKOK – Former Central Investigation Bureau (CIB) and alleged ringleader of a massive graft ring has been sent to hospital due to "severe chest pain," officials say.
Pol.Lt.Gen. Pongpat Chayapan suffered the pain and went unconscious in his cell at Bangkok Remand Prison on the night of 26 December, said Witthaya Suriyawong, head of the Department of Corrections.
The former cop was reportedly sent to a hospital in the prison and diagnosed of shortage of blood in his heart. Due to the severe nature of his illness, officials transferred him to a bigger hospital in Nonthaburi province, Witthaya told reporters.
"The police have dispatched a commando team to keep watch [on Pol.Lt.Gen. Pongpat] along with a special op unit of the Department," Witthaya said, "Because the suspect is wanted in a very important case."
He added that Pol.Lt.Gen. Pongpat would be sent back to the prison if his condition improves.
Pol.Lt.Gen. Pongpat and his accomplices have been charged with numerous offences, including lese majeste (insult of monarchy), corruption, abuse of political office, money laundering, and running illegal gambling businesses.
The massive ring – in which more than 20 arrest warrants have been issued – is also said to be related to former princess Srimasi Suwadee, who resigned her royal status in early December.
Supan Srithamma, director of Department of Medical Service that operates under the Ministry of Public Health, said Pol.Lt.Gen. Pongpat's condition is "critical."
"The patient has been admitted to a critical heart and blood vessel disease ward," Supan said, "The doctors are giving him the best care. We are closely following his condition."
The chest pain was most likely caused by stress, Supan explained.
Police say they are formally asking the public prosecutor to take up the case against Pol.Lt.Gen. Pongpat on 29 December.
The alleged graft ring is one of the largest scandals to hit the Thai police force and the royal palace in recent years.
In total, 26 arrest warrants have been issued on individuals suspected of belonging to the criminal ring; 11 of these individuals face lese majeste charges, which carry a maximum penalty of 15 years in prison.
Pol.Lt.Gen. Pongpat is described as the uncle of former princess Srirasmi. Her brother and sister are also accused of belonging to Pongpat's alleged criminal network.
Her brother, Col. Nattapol Suwadee, is under arrest on charges of armed racketeering and illegal detention, and her sister, Sudathip Muangnuan, is being held in a Bangkok prison for citing her connections to the monarchy in order to win exclusive rights to sell certain food products to the Crown Prince's palace at an overpriced rate.
In response to the ongoing scandal, Crown Prince Vajiralongkorn stripped Srirasmi's entire family of the royally-bestowed surname of Akharaphongpreecha, forcing them to revert back to their "commoner" surname, Suwadee, on 30 November.
Less than two weeks later, on 12 December, the Royal Household Bureau announced that Srirasmi has resigned from her status as a member of the Thai Royal Family. She moved out of the Crown Prince's palace in Bangkok to live with her parents in Ratchaburi province and has not been seen since 13 December, when she applied for a new national ID card as a commoner.
It is unclear whether Srirasmi and the Crown Prince are formally divorced. The couple married in 2001 and have one 9-year-old son.
For comments, or corrections to this article please contact: [email protected]