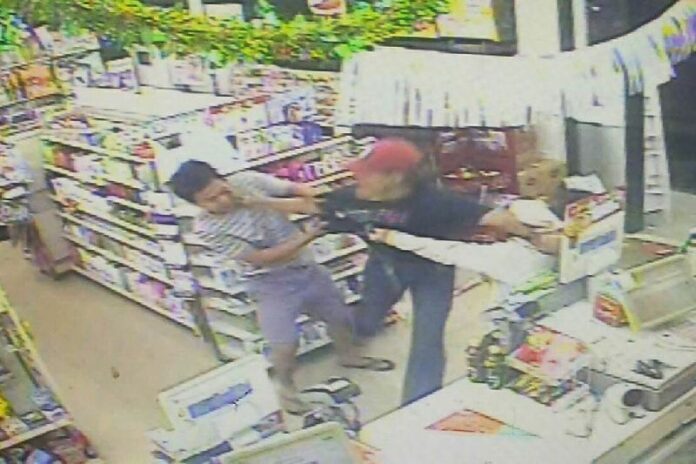 NONTHABURI – Two self-described technical students robbed two convenience stores in Nonthaburi province in the space of 15 minutes early this morning.
The suspects arrived in front of a 7-11 store on Soi Samakkhi 30 on a motorcycle at around 5 am today. The two men then entered the store, grabbed cosmetics, CDs, and condoms, and tried to exit the store without paying, one of the cashier clerks told police.
When the clerk tried to intervene, the suspects reportedly identified themselves as students from a technical college in the province, drew their knives, and threatened to attack the clerk if she attempted to stop them. The two men then left the store on their motorcycle. The goods they have stolen are worth more than 2,000 baht, the clerk said.
Around fifteen minutes later, the two suspects showed up at another 7-11 store on Soi Nichadathani 2, which is located approximately 500 metres away.
The cashier clerk at the store said the suspects tried to steal "snacks and cosmetics," so she shouted at them to pay for the items. Instead, the two men reportedly charged at the clerk's boyfriend, who was also at the scene. After a brief fistfight, the two suspects retreated from the store, said the clerk, Thanida Tanwattana.
"Before they left they shouted that they were going to fetch a knife and a gun," Thanida said. "So I locked the door. When they came back, they couldn't enter the store, so one of them threw a beer bottle at the door."
The suspects were seen driving away down Tiwanond Road.
Police believe the two men were students from a local technical school as they claimed. Police officers say they are studying CCTV footage at the two stores to identify and locate the suspects.
For comments, or corrections to this article please contact: [email protected]