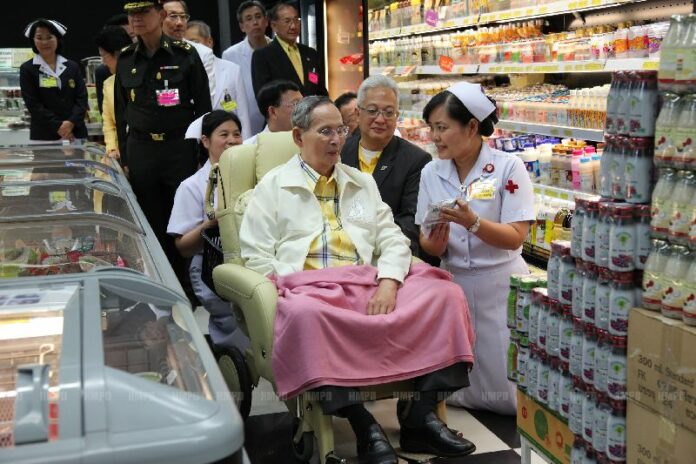 BANGKOK – His Majesty the King has re-emerged in public for the first time today since he was admitted to Sriraj Hospital in Bangkok in October.
King Bhumibol, who turned 87 on 5 December, visited a supermarket on the ground floor of the hospital at around 4.30 pm today. The monarch was on wheelchair and flanked by dozens of officials and medical personnel.
The king bought some milk, ice cream, and fruits from the store, which is operated by the Royal Palace, according to the statement released to the media by the Royal Household Bureau.
His Majesty the King also spent some time looking at the view of Chao Phraya River from the 7th floor of the hospital before retreating to his ward on 16th floor, the statement said.
Crowds of well-wishers lining the corridors at the hospital shouted "Long live the King" as the king passed by on his wheelchair.
It is His Majesty the King's first public appearance since he was rushed from his summer palace in Prachuap Kiri Khan to the hospital in Bangkok on 3 October. The Royal Household Bureau said the trip was prompted by the king's high fever. The king later reportedly underwent a surgery to remove his gallbladder at Siriraj Hospital.
His Majesty the King also experienced infection in his stomach during his time at the hospital, though the palace stressed that his condition has been gradually improving.
Nevertheless, the palace cancelled his scheduled appearance at a state ceremony celebrating his birthday on 5 December 2014, citing his health condition. The news led to a wide rumour concerning His Majesty's health and caused a 9 per cent plunge in the Stock Exchange of Thailand on 15 December.
The king's frail health is a cause of anxiety for many Thais. The monarch is widely credited with bringing stability to the Kingdom during his more than 60 years on the throne.
For comments, or corrections to this article please contact: [email protected]