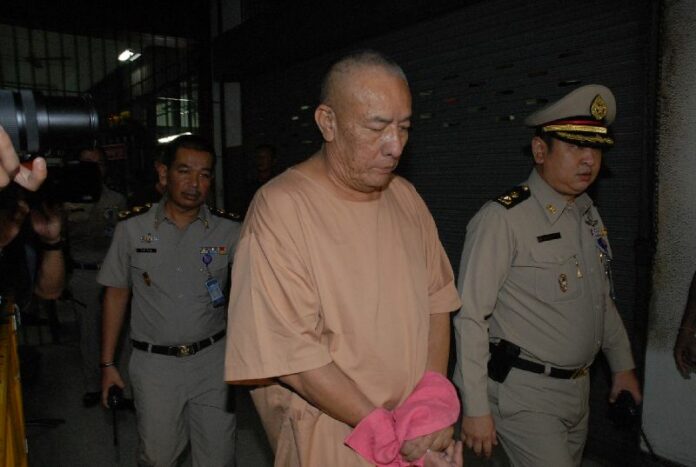 BANGKOK — The former commander of Thailand's Central Investigation Bureau and his deputy have been sentenced to six years in prison for insulting the Crown Prince and running an illegal casino.
Pol.Lt.Gen. Pongpat Chayapan, his ex-deputy Pol.Lt.Gen. Kowit Wongrungroj, and at least five others were arrested in November on charges of extortion, abuse of power, corruption, running a gambling den, money laundering, and lese majeste (insult of monarchy). More than 20 others were later arrested in connection with the alleged crime syndicate run by Pol.Lt.Gen. Pongpat.
Many of the suspects are related to former princess Srirasmi, wife of Crown Prince Vajiralongkorn, including her own brother and sister. Srirasmi resigned from her status as member of the Royal Family in the aftermath of the scandal.
Today, the Criminal Court found Pongpat and Kowit guilty of violating Thailand's lese majeste law, which criminalizes defaming the Royal Family with up to 15 years in prison.
According to the court, the pair operated an illegal casino in Bangkok and wore Royal Crest pins and badges bearing the portrait of Dipangkorn Rasmijoti, the 9-year-old son of the Crown Prince, to indicate that the casino was backed by the palace, the Bangkok Post reported.
The defendants confessed to the crime and were sentenced to five years in prison for lese majeste, and seven years in jail for abuse of power and running a gambling den. The total sentence was eventually reduced to six years because of their confessions.
The pair also plead guilty to charges of lese majeste and soliciting bribes in two other cases still before the court.
The emergence of Pol.Lt.Gen. Pongpat's alleged graft ring into the public eye was one of the largest scandals to hit the Thai police force and the palace in recent years.
Pol.Lt.Gen. Pongpat is an uncle of former princess Srirasmi. Her brother, Col. Nattapol Suwadee, is under arrest on charges of armed racketeering and illegal detention, and her sister, Sudathip Muangnuan, is being held in a Bangkok prison for citing her connections to the monarchy in order to win exclusive rights to sell certain food products to the Crown Prince's palace at an overpriced rate.
In response to the ongoing scandal, Crown Prince Vajiralongkorn stripped Srirasmi's entire family of the royally-bestowed surname of Akharaphongpreecha, forcing them to revert back to their "commoner" surname, Suwadee, on 30 November.
Less than two weeks later, on 12 December, the Royal Household Bureau announced that Srirasmi had resigned from her status as a member of the Thai Royal Family. She moved out of the Crown Prince's palace in Bangkok to live with her parents in Ratchaburi province and has not been seen since 13 December, when she applied for a new national ID card as a commoner.
It is unclear whether Srirasmi and the Crown Prince are formally divorced. The couple married in 2001 and have one 9-year-old son.
For comments, or corrections to this article please contact: [email protected]
You can also find Khaosod English on Twitter and Facebook
http://twitter.com/KhaosodEnglish
http://www.facebook.com/KhaosodEnglish