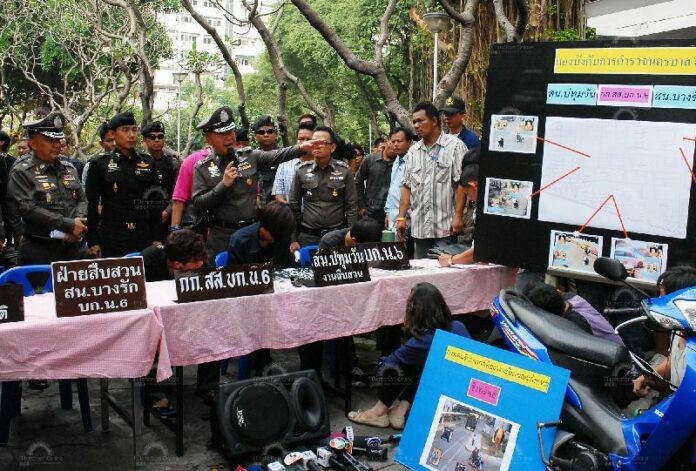 BANGKOK — Police say those behind the robbery spree that targeted students in downtown Bangkok this past week are not technical students as they claimed to be when demanding money from victims.
At least seven robberies were reported around Chulalongkorn University between between 23 and 27 January. All of the victims were students from the university and nearby schools.
According to witnesses' testimonies, the perpetrators claimed to be members of a gang at a nearby technical college, the Uthen Thawai campus of Rajamangala University of Technology.
The robberies prompted Chulalongkorn University to issue a statement warning students to be vigilant when walking on streets around the campus at night.
However, police say they have arrested three suspects in connection with the robbery spree, none of whom are Uthen Thaiwai students.
The three suspects – identified as Rawi Simprasert, 19; Songrit Puttajinarak, 20; and Weerachapattara Kasemjiranat, 19 – reportedly told police they claimed to be from Uthen Thawai because of its "formidable reputation."
Students from Uthen Thawai are known for their longstanding rivalry with another local technical college. Gang warfare between the two colleges is common, sometimes leading to injuries and deaths.
The suspects told police they committed the robberies because they have "problems in their family" and saw the students as easy prey.
The suspects stole a total of 15,000 baht during their crime spree, police said.
Suebpong Muangchu, deputy director of Uthen Thawai, said yesterday that he felt relieved that the his institution's name had been cleared from "damages."
"I would like to tell anyone who has ill intention: please stop spreading news that puts unfair allegations on Uthen Thawai," Suebpong said.
On the same day a senior government official warned that Uthen Thawai may be closed down if gang violence takes place during its anniversary celebration on 1 February, known as the "Blue Day." Violence between rival technical colleges in Thailand often spikes in the days leading up to the schools' anniversaries.
"Celebrating the anniversary of your founding is not a bad thing, but there cannot be violence," said Admiral Narong Pipattayasai, Minister of Education. "If there is any violence inside or around the campus, the administrators will be held responsible because it is your duty to take care of the area. They cannot deny that."
He added, "In the past, there was a shooting that killed a student. The campus of the perpetrators was closed down for seven days. If such incident is repeated, it will be shut for a really long time."
Suebpong, the Uthen Thawai deputy director, said the school has fully cooperated with security forces to prevent violence during Blue Day. Soldiers and police officers are already patrolling around the college, he said.
"Uthen Thawai is confident that there won't be a problem of brawling or violence this year," Suebpong told reporters. "Uthen Thawai students understand their role and duty. The reason why we requested police officers to assist us is because there are people who claim to be Uthen Thawai students and cause many problems."
On the night of 29 January, "numerous" gunshots were fired at Uthen Thawai. Police suspect it to be a harassment from rival student gang.