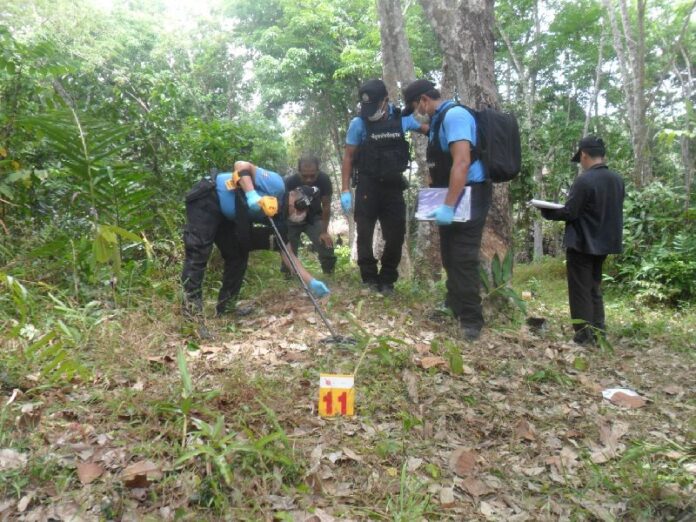 PATTANI — Community leaders and family members of the four men killed by security forces in the southern province of Pattani this week are calling for an investigation into the deadly raid, insisting the deceased had no links to the local Islamic insurgency.
The four men were shot dead during a raid carried out by police, military, and paramilitary rangers on a village in Thung Yang Daeng district on 25 March.

The entrance to To Chud village in Pattani province, 26 March 2015.
Police initially said two of the men were members of RKK, one of the militant groups behind a secessionist movement that has claimed more than 6,000 lives in the region.
Yet Pol.Col. Mana Dechavirit, superintendent of Thung Yang Daeng Police Station, told Khaosod English today that the men's links to the RKK are still under investigation.
"We are still inspecting evidence and waiting for forensic results from the weapons found at the crime scene in order determine whether they were members of the RKK," he said. "At the moment, there is no confirmation."
According to Pol.Col. Mana, the four men killed in the raid did not have any arrest warrants issued on them for crimes related to national security. However, two of them had records of drug charges and "personal crimes."
Twenty-two men were also detained at the scene on suspicion of planning an attack in the area. The commander of Pattani provincial police told Isra news that four of 22 suspects in custody are connected to the insurgency.
"Four of them are members of a group that causes unrest, but they have no previous arrest warrants in national security cases," Pol.Maj.Gen. Kritsakorn Pleethanyawong was quoted as saying.
Nasae Doko, chief of To Chud village, said he was in the neighboring Yala province when the raid took place, and immediately rushed back but he was barred from entering the scene for several hours.
After he was allowed in, Nasae said he recognized one of the deceased as Saddam Wanu, a 24-year-old man who recently completed a jail term for drug offenses. Security officers reportedly told him they found an assault rifle next to Saddam.
"He was out of prison just last week. He managed to own a weapon of war already?" Nasae said. "I am confident that the weapon didn't belong to that young man. I don't know who the weapon belongs to. I am also confident that Saddam is just a drug addict. He had no connection to national security [incidents]."
Saddam's mother admitted her son was heavily involved in drugs, but disputed the allegation that he was a militant.
"Everyone in the village knows what Saddam was like," she said. "I believe the police also know what he was like. Why are they accusing Saddam of being a perpetrator? It's not true. The accusation is really severe."
Pol.Col. Mana did not deny that the village was frequently visited by drug addicts, but insisted that the military operation followed a confirmed report that a group of militants were meeting in the area to plan new attacks.
"Our in-depth information provided by our informants confirm that there has been movement of those who wish to create chaos," Pol.Col. Mana said.
Today, Fatoni University released a statement saying two of the four men killed in the raid were fourth year students at the university, and that the pair had no record of involvement in the insurgency.
"They didn't do anything that endangered national security and were not involved with the RKK," said the statement, which was published on Isra News site. "Furthermore, they have no previous arrest warrants on national security cases, and the university was never instructed by security forces that the two students did anything that affected national security."
The university also called for an investigation into the deadly raid, and urged media agencies to "only report news that has been verified, and do so impartially and ethically."
Col. Pramote Prom-in, spokesperson of the Internal Security Operations Command (ISOC), said the 22 suspects arrested at the scene are being held in three army camps for interrogation.
He said the weapons confiscated at the raid will undergo forensic tests to determine the identity of the owners and any connections to previous attacks.
"I would like to offer my condolence to families of the four men who were killed," Col. Pramote said.
More than 6,000 people have been killed since the insurgency broke out in the southern border provinces of Pattani, Yala, Narathiwat in early 2004. A shadowy network of militant groups has launched near-daily attacks on authorities in the region in an effort to revive the independent sultanate of Pattani, which was incorporated into modern day Thailand in the early 20th century.
There are an estimated 60,000 security officers deployed in the Deep South, whose occasionally heavy-handed tactics have been criticized human rights groups.
Yesterday, Pattani governor Weerapong Kaewsuwan vowed to investigate the deadly raid.
"I will give fairness to all sides," he told Khaosod yesterday. "As for the facts, we are waiting for test results. I would like to ask everyone to be confident in the justice procedures."
In contrast to the predominantly Buddhist populations across most of Thailand, the Deep South is dominated by Muslims who trace their ancestry to the Malays and speak a distinct dialect called Yawi.
To Chud village's chief, Nasae, said he was taken aback by the raid as the Buddhist and Muslim groups in his community are known for living peacefully.
"In this area, there are around 300 households. There are 30 Buddhist households, with one Buddhist [village chief] assistant, and 288 Muslim households. We have always talked to each other all the time. We live peacefully," Nasae said. "The soldiers have been stationed at the nearby Thai Buddhist village. Sometimes they patrol our village. Whenever something is up, they will tell us: chief, please be careful, because there are incidents going on. But this time, they came without warning.
He continued, "And I was confused by the media reports that they were clashing with perpetrators who were plotting something. When the raid took place, they didn't let me enter the scene. I feel like that they were giving only one-sided information."