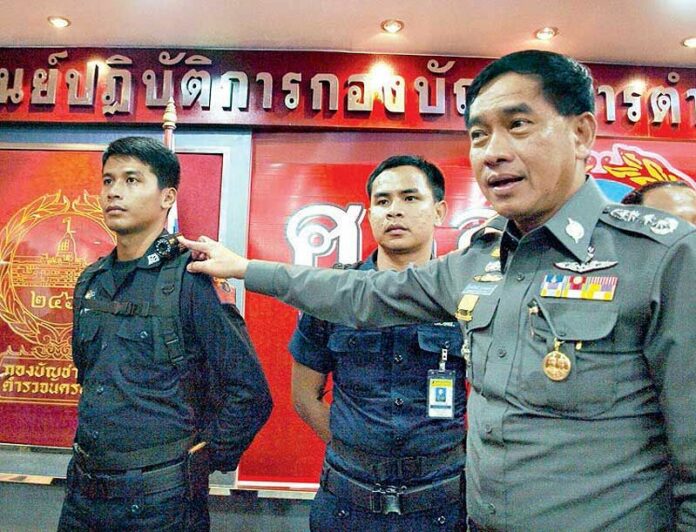 BANGKOK — The former commander of the Bangkok Metropolitan Police has been detained at an airport in Japan for trying to carry a gun on-board a Bangkok-bound aircraft, a police spokesperson said.
Pol.Lt.Gen. Kamronwit Thoopkrachang was detained yesterday evening after security officers found a loaded firearm and some ammunition in his suitcase at Narita Airport, one of two international airports in Tokyo, said police spokesperson Pol.Lt.Gen. Prawuth Thawornsiri.
"Right now, we are checking the details," Pol.Lt.Gen. Prawuth told reporters. "Why he was carrying the gun, and whether he carried the gun past a security checkpoint in Thailand, I cannot say. We have to clearly check details first, and then we will coordinate with him to ask how we can assist."
A source at the Royal Thai Police told Matichon that Kamronwit left Thailand on a Thai Airways flight on 18 June and was scheduled to return on a 9:50 pm flight yesterday. According to the source, Pol.Lt.Gen. Kamronwit told Japanese police he owned the gun, but didn't realize he had left it in his suitcase.
Pol.Lt.Gen. Kamronwit has long been considered a close ally to former Prime Minister Thaksin Shinawatra, who was deposed in a military coup in 2006 but still retains considerable influence over a powerful political dynasty. The officer retired from the Royal Thai Police in October 2014, five months after the military staged a coup d'etat against a government led by Thaksin's sister.
Earlier this month, five Thai students were arrested at an airport in Pakistan for allegedly attempting to carry a handgun, magazine, and ammunition onboard a plane bound for Bangkok. Thai authorities have not released details about the students' possible motive. The five are still being held in Pakistani custody.
CORRECTION: The original article stated that the gun was found in Kamronwit's carry-on bag, but it remains unclear whether the firearm was found in luggage that he intended to check, or carry on board the aircraft.
For comments, or corrections to this article please contact: [email protected]