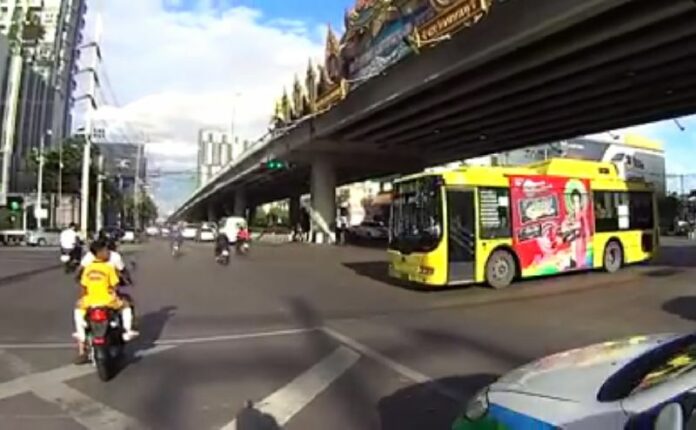 BANGKOK — Transportation authorities in Thailand have suspended the license of a bus driver who ran a red light at a busy intersection in Bangkok and nearly collided with two people riding a motorcycle.
A video of the incident, which was captured on a camera mounted on a motorcyclist's helmet, showed the 33 A.C. bus drive through a red light at Khae Rai intersection and almost plow over an adult and child on a motorcycle, who managed to stop in time to avoid the collision.
Following an uproar over the video on social media, the bus's operator, Kittisunthorn Company, released a statement on its Facebook page explaining that the driver, who was not identified, had been fined 1,000 baht and suspended from working for three days. The driver had also been reprimanded for his action, "which could have led to a grave accident," the statement said.
Many commentators on social media criticized what they viewed as an insufficient punishment, and demanded a harsher penalty.
In a statement distributed to reporters today, the Department of Land Transport announced that it had been alerted of the incident and launched its own investigation.
The Department identified the offending bus driver as Chaluia Kankhokkruat. He has now been barred from driving any vehicle for 30 days, and fined 5,000 baht for disregarding the Department's safety regulations, the statement said.
Kittisunthorn Company has also been fined 2,000 baht and given a formal warning after officials discovered that the bus was not equipped with a safety manual, as is required by regulations, according to the Department.
"If there is a repeated offense, it will be punished at the maximum penalty of license revocation," the statement says.
Public buses in Bangkok are serviced by both the state and private contractors. Bus drivers working for private companies are known among Bangkok residents for their particularly reckless driving.
Today, the No. 8 Bus, which is also privately-operated, crashed into a concrete pillar near Ari BTS Station on Phahonyothin Road, injuring three people and damaging three vehicles. Witnesses told Matichon they saw the bus driving along the road at a high speed before the driver lost control and crashed into the pillar.