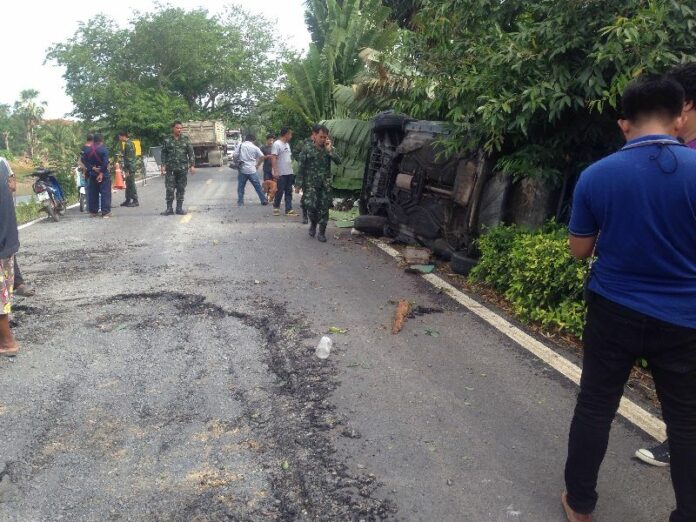 PATHUM THANI – A poorly-maintained road in Pathum Thani province caused a fugitive robbery suspect to lose control of his car and crash while he was being pursued by police today.
The crash took place on West Klong 10 Road in Nong Suea district, where witnesses said they saw a pick-up truck chasing after a silver Volvo.
A road repair worker who gave his name as Somchai said he was working with his team when he heard a loud noise and turned to see the Volvo spinning off the bumpy road.
According to Somchai, three men with guns then got out of the pick-up truck, surrounded the wrecked Volvo, and took the driver away from the scene. Police officers from Nong Suea Police Station later arrived and told reporters that the armed men were plain-clothed police officers.
Police said the driver is one of several suspects behind a robbery that took place in Sa Kaeo province. Police said they are withholding his name because they are afraid that other suspects connected to the robbery will also attempt to flee if they hear of his arrest.

A widely-shared photo of massive cracks on a road in Nong Suea district in Pathum Thani.
The incident took place a week after residents in Pathum Thani filed a complaint with authorities about the deteriorating conditions of roads in the province. A photo of local residents "playing" in massive cracks on a road in Nong Suea district also went viral on the internet.