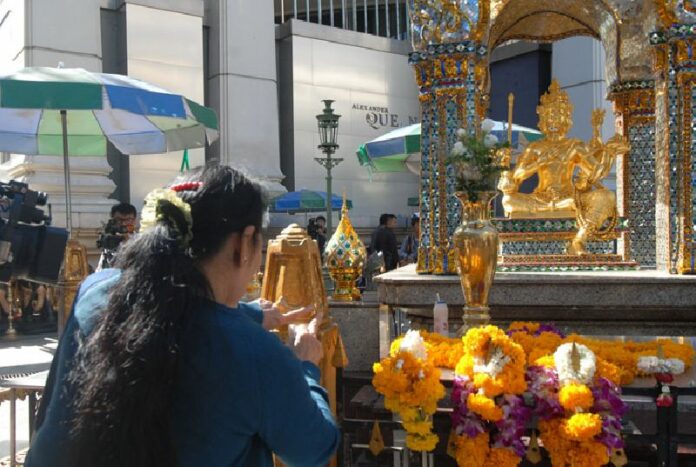 BANGKOK — The site of Monday's horrific bombing reopened this morning as officials announced they have widened their search from a lone wolf bomber to a "network" they believe behind the deadly attack which killed at least 20 people.
Worshipers returned to pray at the Erawan Shrine, a landmark and tourist attraction, as police continue hunting their chief suspect, a man they are now confident is a foreign national who likely had the help of Thai confederates.
"I am confident that the perpetrator disguised his face with a wig before he committed the crime, to hide his identity, and I believe there is more than one perpetrator. It has to be a network," Somyot said, adding, "Foreigners couldn't commit this act alone. There has to be Thai people, who are not Thais at heart, lending assistance to the crime."
Initial images released yesterday of the suspect.
Full video from security cameras released last night gave a clearer indication of why police consider the "yellow-shirt man" their chief suspect. In the footage, he enters the shrine area about 15 minutes before the blast, when it is packed with worshipers and foreign tourists. He immediately slips off his backpack after sitting on a bench and departs seconds later while using a smartphone. He turns left on Ratchadamri Road toward the Erawan Hotel.
"The investigation has clearly established that the man in the CCTV is the perpetrator," said outgoing Thai police chief Somyot Pumpanmuang.
Police Gen. Somyot told reporters he also believes the man was not acting alone and likely had the help of Thai nationals.
Police spokesperson Prawuth Thawornsiri also told Reuters, "We are also looking for other suspects in connection with the blast. These types of attacks are not usually planned by one person alone."
Thai authorities have not offered any speculation who was behind the attack at Erawan Shrine.
In the immediate wake of the attack, two international media outlets – The New York Times and The Telegraph – independently reported police sources identifying a Thai woman as an immediate suspect, a suspicion not since publicly acknowledged by officials.
Asked about this possible suspect, a police press liaison contacted by Khaosod English said he was not allowed to discuss it, saying news would come from the police chief.
Two Western men fell under suspicion yesterday — a teacher/model with a following in Thai social media and a traveler trying to fly out of the country. English teacher and model Sunny Burns went to police after people began circulating photos on social media suggesting he was the bomber, while an unidentified foreigner was questioned at Suvarnabhumi Airport. Both men had unruly hair, one of few discernible traits of the suspected bomber seen in CCTV footage.
Authorities have discounted the involvement of separatists from Thailand's south, citing the unprecedented scale of the attack.
"As for the bomb, it was really severe, and this is unprecedented in the south. It was constructed exclusively for the use of this attack," said Maj. Gen. Weerachon Sukhondhapatipak, a spokesman for the military government.
Army commander Gen. Udomdet Sitabutr echoed Weerachon's remark.
"I don't think it's connected to the south, because the bomb in Bangkok was very powerful," he said. "This is not a method used in the south.
The bomb struck the Erawan Shrine, a popular place of worship in the heart of Bangkok's commercial district, during rush hour on Monday evening. At least 10 foreign tourists were among those killed and wounded in the attack.
Yesterday, less than 24 hours after the Erawan bombing, someone threw an explosive device into a group of people at a riverside pier popular with foreign tourists, but it landed in the water and did not injure anyone.
Police say the bomb was thrown from the overlooking Taksin Bridge by the "same group of perpetrators" with the Erawan Shrine attack, though they have not elaborated on the connection being saying both devices used "TNT."
Related stories:
Bangkok Shrine Bombing: Those Who Died
Day in Photos: Expressions of Grief, Unity After Terror Attacks
Briton Dies in Bangkok Shrine Bombing
Despite Lack of Evidence, Thai Media Points Blame at Uighurs
Tourists Narrowly Escape Second Bangkok Bombing in 24 Hours
Bangkok Shrine Bombing: Police Hunt Backpack Man
Tourists Among 19 Killed by Bomb at Bangkok's Erawan Shrine
To reach us about this article or another matter, please contact us by e-mail at: [email protected].