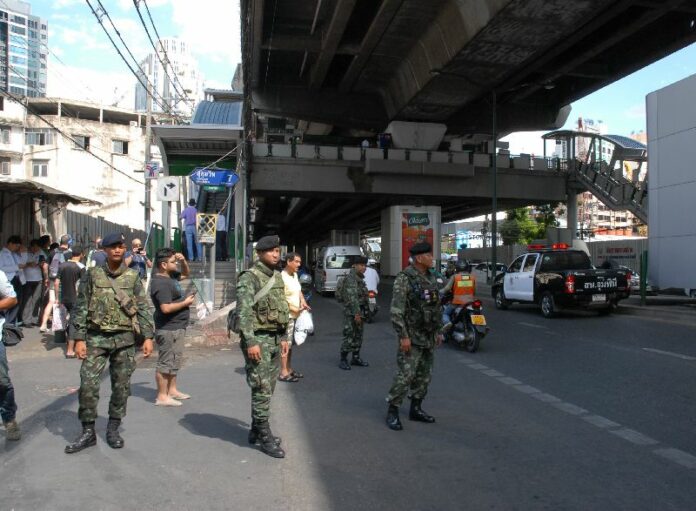 BANGKOK — All lanes have been closed on a stretch of Sukhumvit Road this afternoon while police check a suspicious object near BTS Nana.
UPDATE: Roads reopened after object removed. Matichon reports it was an empty box wrapped in tape and plastic.
All vehicles have been diverted along other routes around the station, according to Traffic Police Radio, while the Skytrain operator announced at 2:30 pm that BTS Nana remains open except for one exit on the Phloenchit side, which has been sealed off during the investigation.
"Avoid! Officials are inspecting suspicious object below BTS Nana station, outbound of Sukhumvit Road," FM91 Traffic Police Radio tweeted. "Traffic temporarily closed, including the Ploenchit tollway exit. Motorists can bypass and exit on [Rama 4]."
The capital is on high alert after two bomb attacks struck separate targets frequented by tourists in a 24 hour span.
The first bomb on Monday night hit the popular Erawan Shrine during peak hours, killing at least 20 people. The second struck a river pier yesterday afternoon, but the thrown device landed in the water next to a footbridge, causing no injuries.
Related stories:
Police Widen Hunt for Bombing 'Network'
Bangkok Shrine Bombing: Those Who Died
Day in Photos: Expressions of Grief, Unity After Terror Attacks
Briton Dies in Bangkok Shrine Bombing
Despite Lack of Evidence, Thai Media Points Blame at Uighurs
Tourists Narrowly Escape Second Bangkok Bombing in 24 Hours
Bangkok Shrine Bombing: Police Hunt Backpack Man
Tourists Among 19 Killed by Bomb at Bangkok's Erawan Shrine
To reach us about this article or another matter, please contact us by e-mail at: [email protected].